Contact: Ashleigh Lee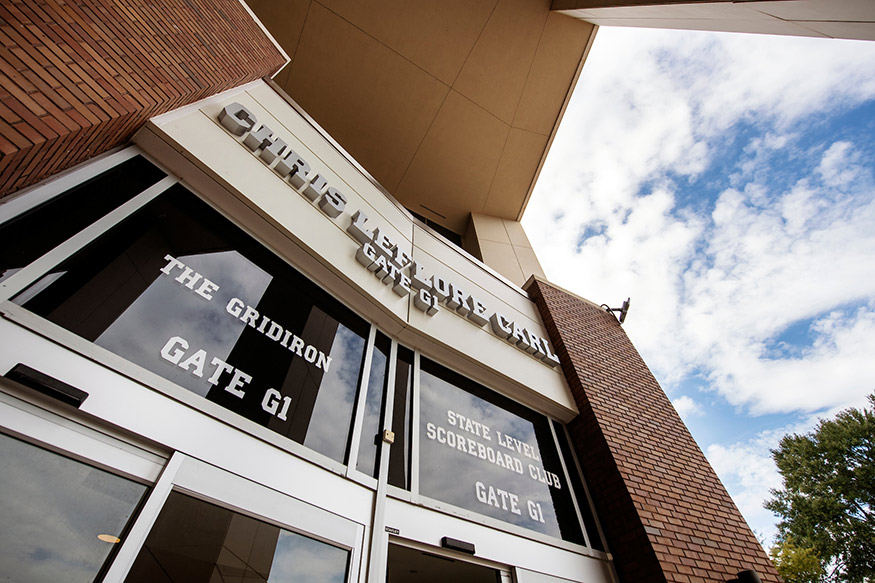 STARKVILLE, Miss.—A gift to Mississippi State University Athletics from the Fred and Margaret Carl Foundation memorializes MSU alumnus Christopher Leflore Carl, who died on March 13, 2021.  
The gift, which supports Bulldog athletics, also renames gate G1 in the university's Davis Wade Stadium in honor of the late alumnus.  
A private unveiling of the Chris Leflore Carl gate was held at the football stadium in October. Immediate family, university staff and members of the Bulldog Club gathered for the ceremony. A banner bearing Carl's name also is being added to MSU baseball's Dudy Noble Field at Polk-Dement Stadium.     
A resident of Miramar Beach, Florida, Carl received his Bachelor of Business Administration in 1999 and his Master of Business Administration in 2000, both from MSU's College of Business. Along with other business interests, he was a co-owner of Dawg House Storage in Starkville and loved supporting the Bulldogs.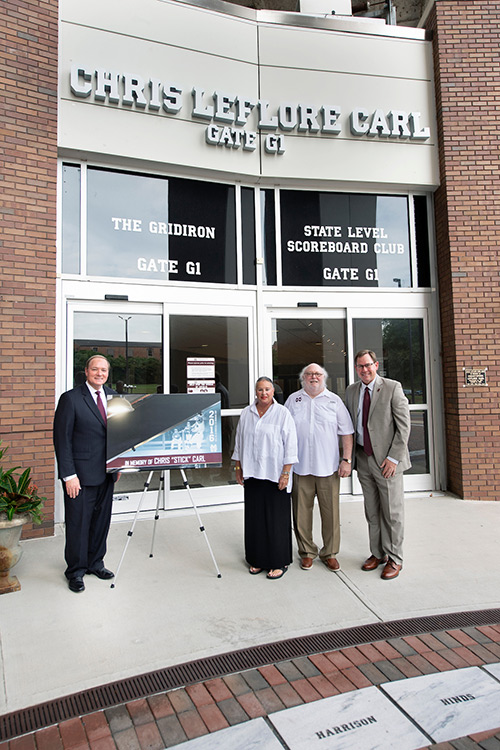 "Chris was a true Bulldog in every sense of the word," said MSU President Mark E. Keenum. "During his life's journey, Chris positively impacted many people's lives. Many had the opportunity to be enriched just by knowing him and having a chance to interact with him. He made a difference in this world. He was loved by his family and his Mississippi State family. Chris's legacy will live on for generations at Davis Wade and Dudy Noble with these markers."   
Carl shared a love for MSU with his parents Fred and Margaret Carl of Greenwood, who have been loyal Bulldog Club members for more than 24 years. Fred, founder of Mississippi-based companies Viking Range Corporation and C3 Design, Inc., received an honorary Doctor of Science from MSU in 2009. He currently serves on the School of Architecture advisory board, was named the College of Architecture, Art and Design's Alumnus of the Year in 2015 and previously served on the MSU Foundation Board. In 2003, he made a generous commitment to the College of Architecture, Art and Design's community design center, which was subsequently named the Fred Carl Jr. Small Town Center in honor of his support.   
The couple's recent gift from the Fred and Margaret Carl Foundation will benefit Bulldog student-athletes, coaches and fans through the ongoing "Today. Tomorrow. Forever." initiative for athletics facilities, and also serves as a way to carry on the legacy of their late son.  
"Chris Carl spent a lifetime passionately supporting the Mississippi State Bulldogs," said MSU Athletics Director John Cohen. "For decades, the Carl family has been so instrumental and generous to MSU academic and athletic programs that it is truly fitting that Chris Carl's name should now live on at Davis Wade Stadium and Dudy Noble Field. When family, friends or fans visit one of these facilities, there will now be a part of Chris and his indomitable spirit right there with them."  
The Bulldog Club, Inc. is a 501(c)(3). For nearly 50 years, it has provided resources like scholarships, academic support, room and board, books, and life skills and career development for student-athletes to excel inside and outside the classroom.   
For more information on ways to support the Bulldog Club or to learn about naming opportunities available through MSU Athletics, contact Stephen Foshee, associate athletic director of development, at 662-325-0965 or sfoshee@foundation.msstate.edu.  
MSU is Mississippi's leading university, available online at www.msstate.edu.