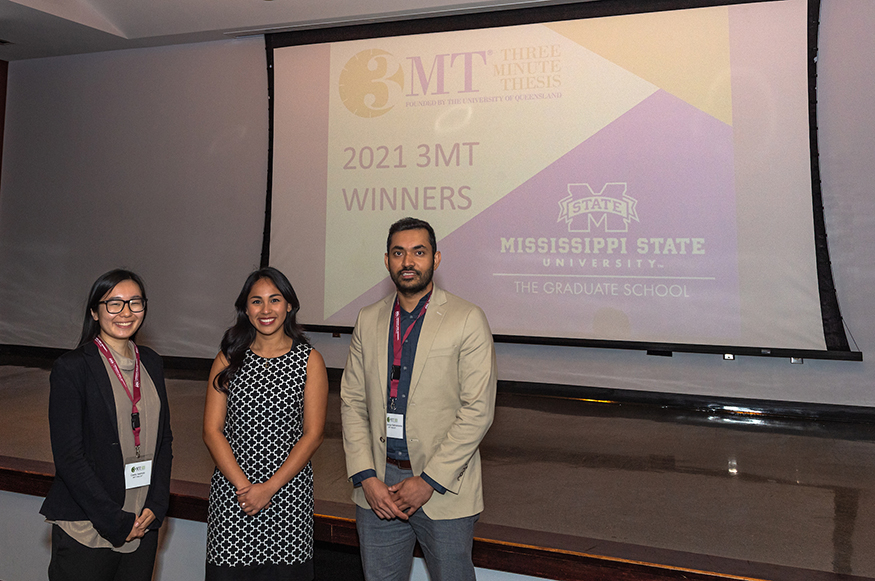 Contact: Sasha Steinberg
STARKVILLE, Miss.—Mississippi State's Graduate School is honoring eight students for outstanding research presentations during the university's eighth annual Three Minute Thesis competition.
The recent event challenged graduate students to present their research ideas and discoveries in three minutes or less. A panel of academic and non-academic professionals judged the presentations students gave to a general in-person and online audience.
The judges selected Laihmen Quan, a chemical engineering doctoral student in MSU's Bagley College of Engineering, as this year's 3MT Grand Champion for her presentation "Salinity effects on CO2-Sensitive polyacrylamide gels for CCS applications." In addition to a $1,000 prize, the Honduras native receives the honor of competing at the regional level during the Conference of Southern Graduate Schools annual conference Feb. 17-19, 2022.
Chathuranga Rathnamalala of Sri Lanka, a chemistry doctoral student in MSU's College of Arts and Sciences, earned the designation of Grand Champion Runner-Up and a $750 prize with his presentation "Design and synthesis of near infrared probes for early detection of cancers."
Attendees voted Casey Iwamoto, a forest resources doctoral student from Seattle, Washington, for the $750 People's Choice Award. Her presentation focused on "Enhancing shortleaf pine (Pinus echinata) restoration on strip-mined soils using biochar and mycorrhizal fungi."
Finalists received $250 awards for their presentations. They include:
—Masood Abdollahi, a civil engineering doctoral student from Iran, "Effect of wildfire on soil and sediment erosion and transport."
—Sakie Jaladha Arachchige, a mathematical sciences doctoral student from Sri Lanka, "Risk prediction of premature menopause before 25 years old."
—Courtney K. Mason, a psychology doctoral student from Oklahoma, "Negative thoughts and thought control strategies within Borderline Personality Disorder."
—Meena Raju, a civil engineering doctoral student from India, "Impact of global climate oscillations on hydrological variables in Mississippi River Valley Alluvial Aquifer (MRVAA)."
—Katelin S. Waldrep, an agriculture/engineering technology master's student from Cherokee, Alabama, "Beyond Variety Selection: Do cropping systems have an impact on iron deficiency chlorosis (IDC) in soybeans?"
Learn about MSU's Graduate School at www.grad.msstate.edu.
MSU is Mississippi's leading university, available online at www.msstate.edu.