Contact: James Carskadon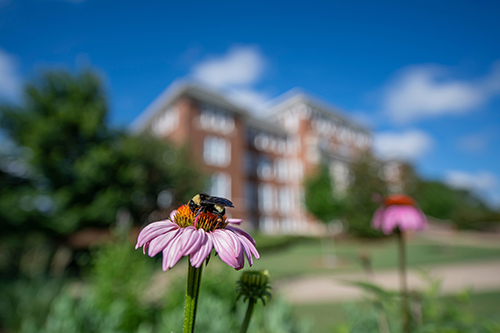 STARKVILLE, Miss.—Taking inspiration from a renowned local golf course, Mississippi State is working to reintroduce native grasses and flowers in select areas on campus.
MSU Campus Landscape crews have selected test areas to pilot the reintroduction process, which includes removing the current Bermuda grass, making it appear dormant, then thatching and sowing native grasses and wildflower seeds in the spring. A team from MSU visited Mossy Oak Golf Club in West Point to learn the "ins and outs" of using native grasses as a complement to highly-manicured green spaces. Since opening in 2017, the golf course has received national acclaim for its design that is mindful of sustainability and natural surroundings.
"Native grasses and flowers placed in the appropriate areas will be beautiful, environmentally beneficial to the land around them, and return vegetation that once grew abundantly in this area," said Bart Prather, who oversees MSU's campus landscaping efforts. "Once re-established, certain difficult-to-maintain areas such as ditches, slopes, and would-be natural meadows will not require the same degree of nearly continuous maintenance as the more manicured areas of our campus do, like the Drill Field or The Junction, our equivalent of fairways and greens."
MSU Campus Services will place placards at the selected areas to help the community understand why the vegetation may appear dormant for the next several months while other areas become green again next spring.
In addition to reintroducing native grasses, MSU is allowing existing plant materials to grow thicker along banks and water inlet areas to naturally improve water quality in Chadwick Lake and Eckie's Pond on campus, and there are additional visible changes on the horizon in the near future. In both cases, the Campus Landscape team is tapping into the faculty expertise available at one of the country's top agricultural research institutions.
"The water quality efforts, like the native grasses projects, will take some time, but we are fortunate to have a number of experts in various academic fields on campus from whom we will continue to seek guidance and advice," Prather said.
MSU Campus Services is responsible for maintaining indoor and outdoor spaces at the land-grant institution. MSU has been recognized by the Professional Grounds Management Society multiple times for the university's exceptionally maintained campus.
MSU is Mississippi's leading university, available online at www.msstate.edu.