Contact: Sasha Steinberg
STARKVILLE, Miss.—There's no place like a new home for the holidays, and a Starkville family is experiencing that feeling thanks to a dedicated group of volunteers from Mississippi State University and Starkville Area Habitat for Humanity.
On Wednesday [Dec. 15], MSU and Habitat celebrated completion of the 13th annual Maroon Edition home—Habitat's 71st home in Oktibbeha County—on Azalea Lane with an afternoon ceremony.
The new home was built for Starkville resident Keva Robertson and her two children, Kaeli and Laquante Gaston Jr. It also honors MSU alumnus Paul B. Murphy Jr., a Vicksburg native and executive vice chairman of Cadence Bank, who earned a bachelor's degree in banking and finance from MSU and a Master of Business Administration from the University of Texas at Austin.
MSU President Mark E. Keenum congratulated Robertson and presented her with a family Bible.
"We want to instill the importance of service and helping others, and this partnership with Habitat for Humanity presents a wonderful opportunity for our students, faculty, staff and retirees to come out and participate in such a worthy cause in helping to build a home for a very deserving family," Keenum said. "We also thank Paul Murphy for his support and Cadence Bank for partnering with us to make this possible."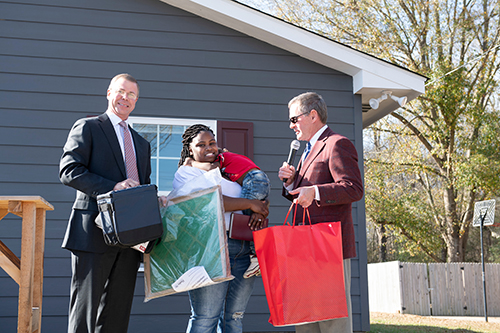 Cadence Bank made a $50,000 donation toward the Maroon Edition home to honor Murphy's leadership and his appreciation for the role that communities play in improving people's lives.
"I'm so proud of my alma mater, the students and other volunteers, and the national reputation that Habitat has for professionalism, thoughtfulness, cost-control and quality of the product. This home has turned out great, and I am happy for Keva and her family," said Murphy, who presented Robertson with a homeowner welcome basket.
John Breazeale, Starkville Habitat's construction manager, also announced MSU sophomore kinesiology major Calvin Vechinski of Huntsville, Alabama, as the inaugural recipient of Starkville Habitat's annual Olivia Williams Outstanding Construction Site Volunteer Award. The award is named for the Houston, Texas, native who began volunteering with Starkville Habitat as a freshman in 2015 and continued service to Starkville Habitat after graduating from MSU in 2019, even while pursuing a Ph.D. in chemical engineering at Georgia Tech.
"Since she graduated from MSU, Olivia has worked on this new house and the one across the street," Breazeale said. "When she had Saturdays off at Georgia Tech, she would just drive over and come help. She's a stellar young woman."
"Calvin was basically my right-hand man during COVID. He was always there, willing to learn and willing to work. When I needed him, I could call him, and he was my right-hand supervisor, a very mature young man," Breazeale said of Vechinski, an MSU University Recreation student worker who also was named the Division of Student Affairs Student Employee of the Month in November.
Robertson said she was overwhelmed with joy and grateful for all who played a role in making this new home a reality for her family.
"I want to thank every person who came together to help build this home. It's very exciting. My family is happy. It's before Christmas, so that's great too. It's a blessing."
Starkville Mayor Lynn Spruill said, "To have this as a way to enjoy your first Christmas and first New Year in a home is very exciting, and I'm really happy for Keva and look forward to all the good things that are going to come from you having this very special place to raise your children and be a part of our community."
Starkville Area Habitat for Humanity President Jesse Morrison said the house "is a testament to the willpower, help and teamwork of those who built it."
"These Habitat houses are done in a reasonable amount of time with wonderful quality and workmanship, and my hat's off to Joel Downey, the rest of the Starkville Area Habitat for Humanity board, John Breazeale, the build team and everyone who volunteered," Morrison added.
The Habitat home is part of the service-learning component of MSU's Maroon Edition First-Year Reading Experience, which provides incoming freshmen and transfer students with a free copy of a common book. Learn more at www.maroonedition.msstate.edu.
For more on Starkville Area Habitat for Humanity, visit www.starkvillehabitat.com.
MSU is Mississippi's leading university, available online at www.msstate.edu.