Contact: Kathleen Forman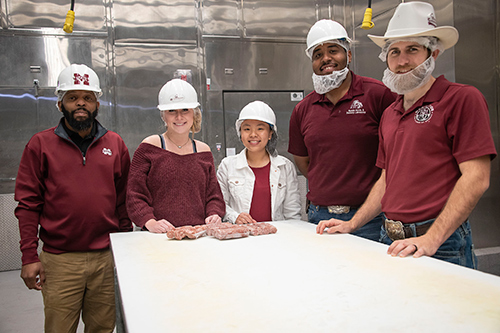 STARKVILLE, Miss.—Four Mississippi State students were among only 30 chosen nationwide to participate in a recent training conference for college students entering the meat science industry.
The MSU students traveled to Smithfield, Virginia, for the Smithfield Foods INTEGRATE program, where they worked closely with other meat science students to expand their view of industry careers.
MSU student participants included:
Joseph Mangano—an animal and dairy science master's student from Pearl River, Louisiana, who earned his MSU undergraduate degree in 2018.
Maliq Holmes—a senior animal and dairy science major from Vicksburg.
Chelsie Dahlgren—an animal and dairy science major from Ocean Springs who completed her undergraduate degree in December.
Virell To—a food science, nutrition and health promotion master's student from Indonesia, who earned her MSU undergraduate degree in 2020.
"Smithfield has a huge industrial scale operation, and they are invested in enhancing their processing capabilities," said Mangano. "I was excited to see their operation and learn how their techniques can be incorporated into our university meat lab."
Both Mangano and Holmes work at the Mississippi Agricultural and Forestry Experiment Station's Meat Science and Muscle Biology Laboratory under Associate Professor Derris Devost-Burnett, in MSU's Department of Animal and Dairy Sciences.
Dahlgren and To work as student researchers assisting both Associate Professor Thu Dinh in the Department of Animal and Dairy Sciences and Professor Wes Schilling in the Department of Food Science, Nutrition and Health Promotion.
Burnett, Dinh and Schilling encouraged all four students to apply and assisted them during the process. Scott Willard, Interim Dean of the College of Agriculture and Life Sciences, and the Department of Animal and Dairy Sciences also assisted with their travel.
"This immersive approach gave students the opportunity to experience stakeholders in the meat industry that are interested in taking new ideas or customer requests and turning those into products on a commercial scale," said Burnett. "Having four students selected for this opportunity further contributes to MSU's reputation in this field."
For more information on the College of Agriculture and Life Sciences, visit www.cals.msstate.edu, on the Department of Animal and Dairy Sciences, visit www.ads.msstate.edu.  
MSU is Mississippi's leading university, available online at www.msstate.edu.