Contact: Allison Matthews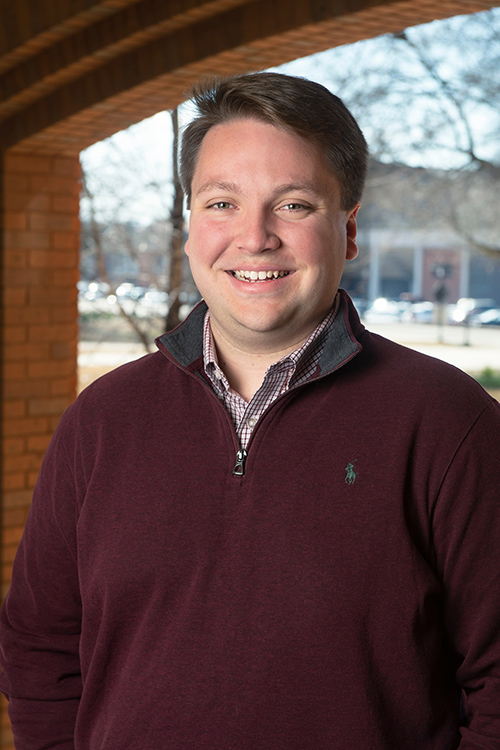 STARKVILLE, Miss.—A Mississippi State business economics and foreign language double major will spend his summer as part of the prestigious Public Policy and International Affairs Junior Summer Institute Fellowship at the University of Michigan's Gerald R. Ford School of Public Policy.
John "Tyler" Dickerson of Starkville credits his university experiences as a Presidential Scholar and member of the Student Association with helping him gain confidence and prepare a successful application for the competitive award.
The Judy and Bobby Shackouls Honors College student who holds the Charles and Pat Lee Presidential Endowed Scholarship will be among a cohort of PPIA fellows selected from universities across the country with public policy interests and an array of different backgrounds. Dickerson said the fellowship is like a "training ground for people who are going to pursue a master's degree in public policy." He said he also is considering the options of law school or an international affairs program after he graduates from MSU next year with concentrations in international business and Spanish.
"When I came to MSU as a Presidential Scholar, I immediately had a community of older students who helped me learn more about things I was interested in," Dickerson said.
Like many other MSU students who have attained highly sought-after fellowships and awards, he learned about the PPIA opportunity through honors college mentors and students who had earlier received the same accolade. MSU has had seven honors students in eight years to receive the honor.
"As Presidential Scholars, we travel, do things together, and look at graduate schools. The other students have always really pushed me, and everyone wants to see everyone else succeed. From the moment we came in as freshmen, it was an environment where we built each other up. It starts with our leadership in the honors college," he said. Among others, he credits David Hoffman, director of the honors college's Office of Prestigious External Scholarships, and Donald Shaffer, Presidential Scholars mentor, for their helpfulness throughout the PPIA application process.
Dickerson also emphasized the value of his Student Association service. "My time at SA has been the most formulating experience I've had as an undergraduate," he said, explaining that the peers he met and problem-solving experiences they had together—especially as part of the executive council serving during the pandemic—have been significant and influential. Dickerson served on the SA's Freshman Council, and as a campus-wide senator and treasurer.
Last year, Dickerson also received a prestigious David L. Boren Award, an honor sponsored by the National Security Education Program for U.S. undergraduate and graduate students in diverse fields of study and committed to enhancing their language skills and cultural awareness. He hopes to travel this fall for the social justice and inequality program at Brazil's Pontifical Catholic University of São Paulo where he will study Portuguese, Brazilian democratization, sustainable economics of the Amazon and U.S.-Brazilian relations.
"Tyler's successes with the Boren Scholarship and now the PPIA-JSI are a testament to not only his hard work in and out of the classroom but also to his willingness to work through drafts of his applications with his peers and mentors to craft those experiences into compelling narratives. Being open to feedback and critical assessments of his application materials from people of different backgrounds really helped him to develop successful materials," said Hoffman, also an associate professor in the College of Arts and Sciences' Department of Anthropology and Middle Eastern Cultures.
"In my mind, Tyler's success with the PPIA is a product of both his existing experience with and desire to continue exploring how to best use the tools of economics and policy making to improve the lives of people regardless of their backgrounds. He is not shy about engaging with difficult political questions that demand sensitivity and an ability to put oneself in the shoes of others," Hoffman said.
For more about MSU's Shackouls Honors College and it's Office of Prestigious External Scholarships, visit https://www.honors.msstate.edu/ and https://www.honors.msstate.edu/prestigious-external-scholarships/.
MSU is Mississippi's leading university, available online at www.msstate.edu.