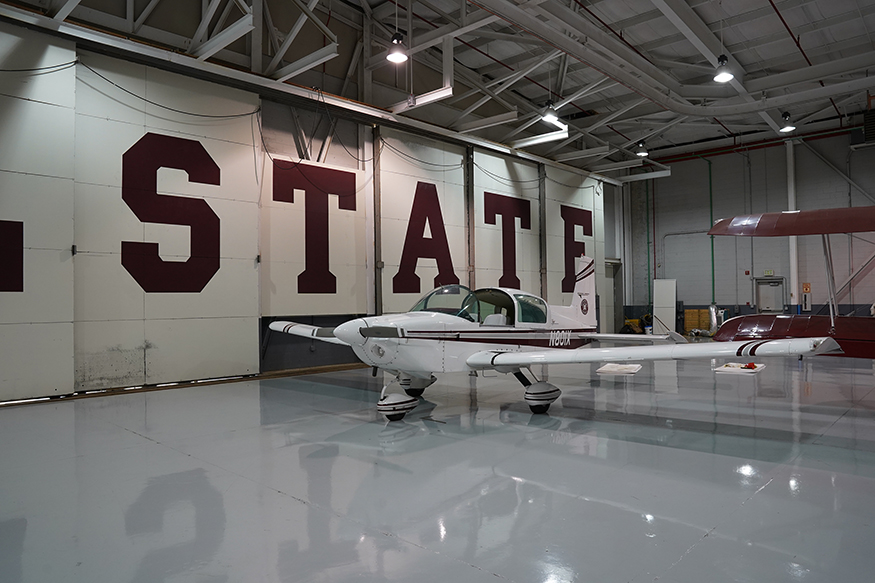 Contact: Chris Bryant
STARKVILLE, Miss.—Three airplanes from Mississippi State University's Raspet Flight Research Laboratory, as well as an unmanned aircraft system, will be displayed March 26-27 at the Wings Over Columbus Air Show at Columbus Air Force Base.
Gates open at 10 a.m., and the air show, featuring the Air Force's Thunderbirds, begins at noon and ends at 5 p.m. on both days. The event is free and open to the public.
"We're looking forward to visiting with air show attendees and providing an opportunity for a close-up view of Raspet's manned airplanes and our state-of-the-art unmanned aircraft systems," said Tom Brooks, director of the Raspet flight lab. "While many know us for our unmanned aviation research, we have a long history in experimental aviation, and our manned airplanes play key roles today in our unmanned research."
The following Raspet aircraft are scheduled for display during the event:
—A Boeing Stearman PT-17, the centerpiece of Raspet's manned aircraft fleet, which was used by the Army Air Corps from 1941-1943 as a trainer for World War II pilots.
—A Cessna L319, a one-of-a-kind experimental aircraft originally built for the U.S. Marine Corps as a forward observer aircraft, which is used by Raspet as a chase airplane during its unmanned aircraft research.
—A Grumman AA5B Tiger, the first prototype built of the Grumman American Tigers, which is used by Raspet as a training aircraft for its flight crew.
Guests at the air show may also access the STEM Expo, featuring approximately 30 science, technology, engineering and mathematics exhibits, during the event. One of Raspet's ground control stations—a mobile command center that serves as a cockpit during unmanned flights—and one of its unmanned aircraft systems, a 350-pound TigerShark, will be part of the expo.
Team Xipiter, Mississippi State's unmanned aircraft system student team, will bring its Xawk UAS to the expo. The interdisciplinary team competes with its student-designed and built system in an international organization's annual competition.
The STEM expo also will be open to groups from area schools on March 25.
"We have approximately 970 students from 27 schools that will be in attendance on the STEM Expo student-only day," said Tech Sgt. Javier Cruz, of the 14th Flying Training Wing Public Affairs Office. "This is our first large scale STEM Expo. We're very lucky to have such a supportive community helping us to make this Air Show and STEM Expo into a great event for these students and guests."  
For more information on Wings Over Columbus, visit the event's website, wocairshow.com/.
MSU's Raspet Flight Research Laboratory is the nation's leading academic research center dedicated to the advancement of unmanned aircraft systems. Raspet is the only institute in the world designated both as the FAA's UAS Safety Research Facility and as official UAS Test Sites for both the FAA and the Department of Homeland Security. Home to a fleet of the largest and most capable unmanned aircraft in academic use, Raspet conducts UAS research on behalf of federal agencies and commercial industry alike, and it remains a world leader in composite material research.
MSU is Mississippi's leading university, available online at www.msstate.edu.