Contact: Harriet Laird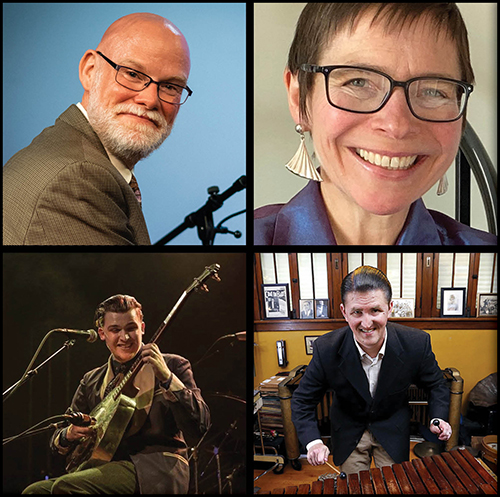 STARKVILLE, Miss.—"If you don't feel it, you'll never know it," American trumpeter and bandleader Louis Armstrong once said in describing the style of music known as "swing jazz."
Now, audiences at Mississippi State University have a chance to be transported back to the 1920s, 30s and early 40s to hear—and feel—swing jazz during the Charles H. Templeton Ragtime and Jazz Festival set for March 24-26.
With jazz music and its history at the center of this year's event, the Sweet & Hot Quartet is bringing this foot-stomping, knee-slapping sound into McComas Hall Theater on Friday and Saturday [March 25 and 26] at 7:30 p.m. On Friday night, the four musicians will present the concert "Rag-a-Jazz: Sweet AND Hot!!," followed by Saturday's "Hot Hands and Sweet Syncopation!"
Sweet & Hot Quartet includes vocalists Jeff and Anne Barnhart, a pianist and flutist, respectively, who previously performed during MSU's festival as Ivory & Gold. They are accompanied by multi-instrumentalist T.J. Müller and percussionist Josh Duffee. The band performs a variety of jazz, the music genre that grew from African American roots to dominate the early 20th century culture known as the Swing Era.  
MSU Associate Dean Stephen Cunetto said of the group that's toured across six continents, "There just aren't adequate words to describe the show that this quartet puts on. Their performance leaves you only wanting more."
Tickets just for the Friday and Saturday concerts can be purchased for $15 each, and registration for this and all festival events is available online at festival.library.msstate.edu. MSU students can attend any or all events for free with a valid student I.D. Tickets also will be available at the door.
Parking is available at the Old Main Academic Center parking garage on Barr Avenue. Patrons also can use MSU's S.M.A.R.T. shuttle system for transportation to and from the festival. For more information about parking, visit parkingservices.msstate.edu.
The festival is sponsored by MSU Libraries, the Division of Access, Diversity and Inclusion, Student Affairs and the Office of Public Affairs, as well as the City of Starkville, MaxxSouth Broadband, Mississippi Arts Commission, and National Endowment for the Arts.
For more information, call 662-325-6634 or email ragtimefestival@library.msstate.edu.
MSU is Mississippi's leading university, available online at www.msstate.edu.