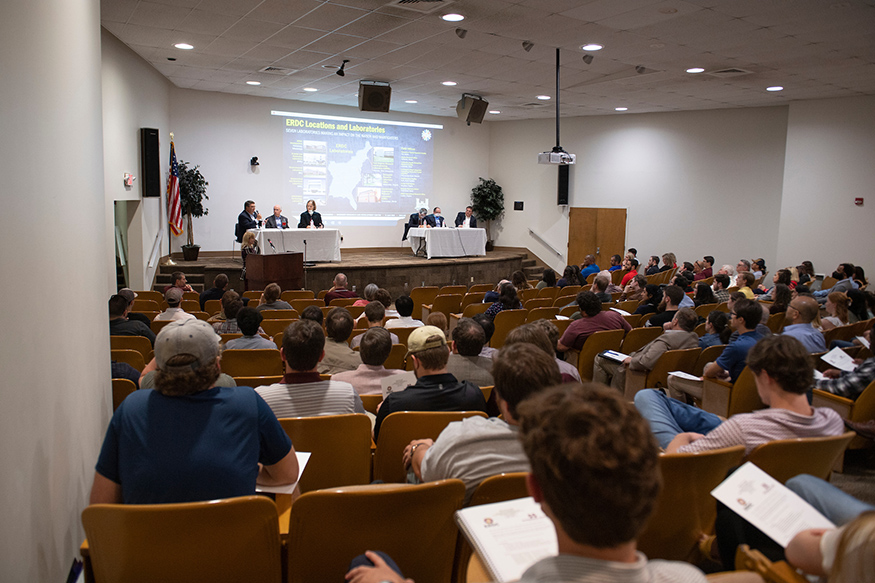 Contact: James Carskadon
STARKVILLE, Miss.—Mississippi State University and the U.S. Army Engineer Research and Development Center celebrated their longstanding partnership as part of ERDC Day on the MSU campus.
Leaders from the research center spent Thursday [April 14] morning interacting with students in MSU's James Worth Bagley College of Engineering before taking part in a public panel discussion. Approximately 600 College of Engineering students heard presentations from ERDC leaders on a variety of topics throughout the day.
Based in Vicksburg, ERDC is the research unit of the U.S. Army Corps of Engineers and is one of the premier engineering and scientific research organizations in the world. MSU and ERDC have have collaborated on dozens of research projects. In 2014, the two partnered to create the Institute for Systems Engineering Research, also housed in Vicksburg. The MSU and ERDC alliance includes areas of mutual expertise and capability such as high performance computing, materials science, military engineering, autonomous systems, cybersecurity, artificial intelligence and machine learning, among others. Additionally, ERDC is among the largest employers of MSU engineering graduates.
"We have a long-standing record of partnership with Mississippi State, and it continues to grow each day," said Bart Durst, director of the Geotechnical and Structures Laboratory at ERDC and an MSU alumnus. "At ERDC, we solve problems that are huge for this world, and we draw a lot of talent from Mississippi State that stays with us for a long time."
MSU Provost and Executive Vice President David Shaw noted that several MSU research centers have ongoing collaborations with ERDC, including the Center for Advanced Vehicular Systems, Raspet Flight Research Laboratory and the Center for Cyber Innovation.
"Those are just the tip of the iceberg of the activities that we have going on already," Shaw said. "The opportunities that we can see coming in the future are really only limited by our imagination."
MSU launched a military engineering concentration in 2018, in part to help ERDC meet its training needs with a local academic partner. Military engineering also is the focus of a major ongoing research project at MSU that aims to develop new technologies to enhance ERDC's engineering force protection capabilities in support of national defense. MSU researchers are developing advanced materials and systems, garnering new insights into the protection capabilities of next-generation materials used in military efforts. They also are conducting autonomous vehicle modeling and simulation for navigation in cold environments.
During Thursday's question-and-answer session, MSU students gleaned insight into ERDC career pathways, sustainability efforts, future uses of artificial intelligence and machine learning, among other topics. In addition to Durst, Senior Scientific Technical Manager of Materials and Structures Robert Moser and Information Technology Laboratory Director David Horner represented ERDC on the panel. In addition to Shaw, MSU was represented by Vice President for Research and Economic Development Julie Jordan and Bagley College of Engineering Dean Jason Keith.
The Vicksburg ERDC headquarters also is home to four of its seven laboratories: the Coastal and Hydraulics; Geotechnical and Structures; Environmental; and Information Technology laboratories. Additional laboratories include the Construction Engineering Research Laboratory in Champaign, Illinois; Cold Regions Research and Engineering Laboratory in Hanover, New Hampshire; and Geospatial Research Laboratory in Alexandria, Virginia. A diverse organization with approximately 2,100 employees, its annual program exceeds $1 billion as it supports the Department of Defense and other agencies in military and civilian projects. For more, visit www.erdc.usace.army.mil.
MSU is Mississippi's leading university, available online at www.msstate.edu.