Contact: Grace Jones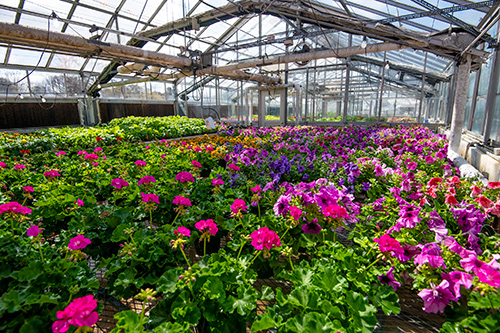 STARKVILLE, Miss.—Mississippi State's Horticulture Club is holding its annual spring plant sale to help gardeners expand their personal plant collections and raise funds for the organization to carry out service priorities and establish a new scholarship.
The plant sale takes place at the greenhouses by Dorman Hall on Friday [April 8], 8 a.m.-5:30 p.m., and Saturday [April 9], 8 a.m.-1 p.m. The building is at the intersection of Stone Blvd. and Creelman St.
Featuring annuals, perennials, house plants, vegetables, herbs, succulents and other selections available for purchase, some of the more popular varieties offered include petunias, geraniums, marigolds, vinca, sage, begonias, fiddle-leaf figs, monarda and many other options.
Sam Cothron, a senior agronomy major from Madison, is the Horticulture Club's greenhouse manager and helps propagate and grow plants for the sale.
"We try to grow pretty much everything. We have house plants for students who might be living in dorms or for people who live in apartments and don't have space for a garden," Cothron said. "We also have a lot of vegetables, herbs, annual bedding plants and some perennials too."
The club meets bi-weekly throughout the academic year and begins growing sale plants in January each year.
Professor Richard Harkess in MSU's Department of Plant and Soil Sciences, who serves as the club's faculty advisor, said along with service projects and scholarship opportunities, the sale funds support enhancement of student experiences, training and undergraduate activities.
"The money we earn goes to future plant sales, club events and service projects. One of the most significant things we are currently fundraising for is an endowed club scholarship," Harkess said, with about $5,000 already collected. Other fundraising activities are planned, and the club hopes the fund will cover club trips to conferences or botanical gardens and enhance engagement with horticultural science.
"This club is classified as a service organization, so we try to stay on top of our service projects. We prepare pantry boxes that we've donated to Starkville Strong and Bully's Pantry, and we give away free plants to the community for special events like Green Week or Earth Day to promote the club and engage with our community," Harkess said.
For more information, visit "MS State Horticulture Club" on Facebook. MSU's Department of Plant and Soil Sciences, in the College of Agriculture and Life Sciences, offers a degree in horticulture with concentrations in floricultural and ornamental horticulture, floral management, and fruit and vegetable production. For more information, visit www.pss.msstate.edu/students/index.php.
MSU is Mississippi's leading university, available online at www.msstate.edu.