Contact: Carl Smith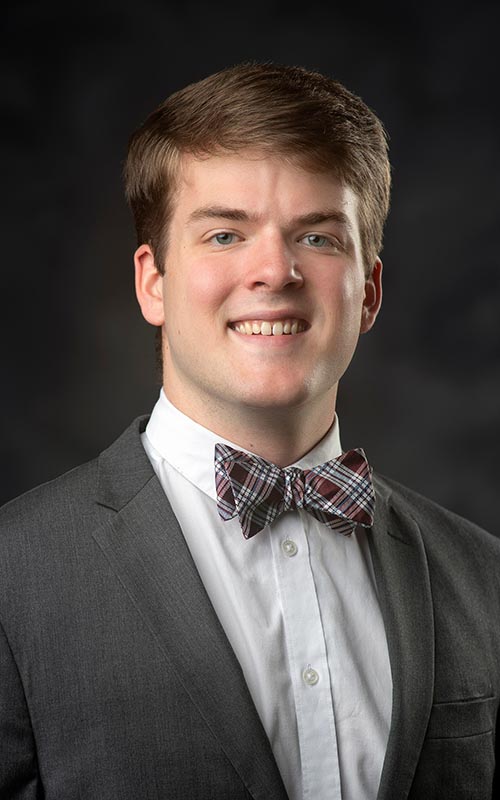 STARKVILLE, Miss.—A Mississippi State senior biochemistry major is the university's ninth Fulbright finalist in the last six years.
Tanner DeYoung, who is minoring in political science, was recently offered a Fulbright U.S. Student Program award for the 2022-2023 academic year from the U.S. Department of State and the Fulbright Foreign Scholarship Board.
The Clinton resident has been offered funding to study the history of politics and society abroad at Utrecht University in Utrecht, Netherlands, through the Fulbright Program after graduating from MSU in May. Recipients of Fulbright awards are selected in an open, merit-based competition that considers leadership potential, academic or professional achievement and record of service.
DeYoung's honor marks the sixth-straight year MSU has produced at least one Fulbright finalist. His award reflects how the university develops students who are competitive for one of the nation's top post-graduate scholarship programs, said MSU Fulbright Program Advisor David Hoffman.
"We have many students that are committed to building global connections and open to learning from the rest of the world; are well-rounded leaders with a passion for serving beyond the halls of academia; and are well-trained academically in both the classroom and research," said Hoffman, who also is the director of the Shackouls Honors College Office of Prestigious External Scholarships and an associate professor within the College of Arts and Sciences' Department of Anthropology and Middle Eastern Cultures. "Tanner personifies all these attributes. He has taken advantage of many different opportunities to build his knowledge and research, and to expand his horizons. It was precisely these attributes, especially his curiosity about what the Netherlands and the graduate program he will enter there can teach him about policymaking in relation to health care, that set him apart."
A Provost Scholar, Spirit of State Award winner, Student Association senator and president of the Honors College Ambassadors, DeYoung said his familial connections to MSU led him to enroll at the university, where his interest in health care policy shaped his years of learning.
"Mississippi State has given me an opportunity to excel," he said. "It has given me an opportunity to put my head down, take my classes and do all the extracurricular activities I wanted while allowing me to get the grades I wanted, keep a good head on my shoulders and be able to make an impact on the campus and community."
"Tanner is involved in a real diverse set of activities on campus, but the one thing connecting almost all of them is service to the greater good," Hoffman added. "This is also true of his research endeavors—projects that are in service to the greater good. This fits perfectly with Fulbright's mission of developing mutual understanding through exchange and engagement."
The Fulbright Program is the U.S. government's flagship international educational exchange program and is supported by the people of the U.S. and partner countries around the world. It is funded through an annual appropriation made by the U.S. Congress to the U.S. Department of State's Bureau of Educational and Cultural Affairs. Participating governments and host institutions, corporations and foundations around the world also provide direct and indirect program support.
Since 1946, the Fulbright Program has provided more than 400,000 participants from over 160 countries the opportunity to study, teach, conduct research, exchange ideas and contribute to finding solutions to shared international concerns.
For additional information about the Fulbright Program or the U.S. Department of State, visit eca.state.gov/fulbright.
Learn more about MSU's Judy and Bobby Shackouls Honors College at honors.msstate.edu.
MSU is Mississippi's leading university, available online at msstate.edu.