Contact: Allison Matthews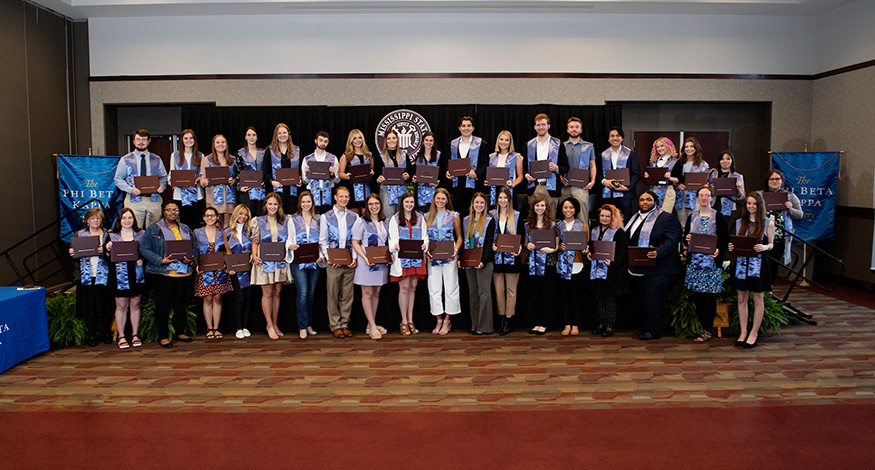 STARKVILLE, Miss.—The Gamma of Mississippi Chapter of The Phi Beta Kappa Society at Mississippi State University is announcing 48 inductees for 2022.
Phi Beta Kappa inductees are among the top 10 percent of their graduating class who have completed a broad range of liberal arts and sciences coursework, including foreign language study and mathematics. Honored Monday [April 18] with an induction ceremony and dinner sponsored by MSU's Office of the Provost and Executive Vice President, the students were selected for their extraordinary academic achievement in the arts and sciences.
The Phi Beta Kappa Society was founded in 1776 and is the nation's most prestigious academic honor society. Only 10% of U.S. colleges and universities have PBK chapters, and these chapters select only 10% of their arts and sciences graduates to join. Noteworthy members include 17 U.S. presidents, 42 U.S. Supreme Court justices and more than 150 Nobel laureates.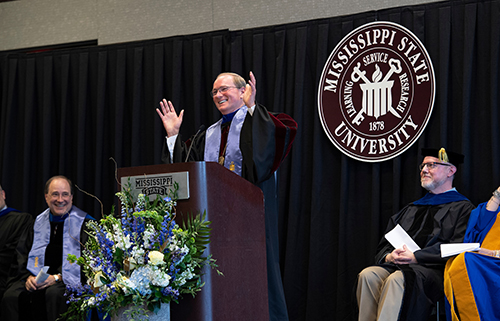 "I want to thank our world-class faculty members who have been teachers, mentors and role models to this year's class of Phi Beta Kappa inductees," said MSU President Mark E. Keenum, who also noted the critical role of parents, families and friends in supporting students on their journeys to success. He said the new MSU inductees will be recognized for their Phi Beta Kappa membership for the rest of their lives. "You rose above the challenges set before you and you prevailed. You are the best of the very best," Keenum added.
Phi Beta Kappa, Gamma of Mississippi Chapter student inductees for 2022 include (by hometown):
ALEXANDER CITY, Alabama—Ginni Gray, communication
BALDWYN—Elizabeth Howell, Spanish/marketing
BATESVILLE—Victoria Hartman, biological sciences
BATON ROUGE, Louisiana—Lauren Arceneaux, economics/political science; and Michael Bourgeois, English/history
BIRMINGHAM, Alabama—Anna Balzli, Spanish/marketing
CARY—Joseph Newell, English
CHESAPEAKE, Virginia—Shardonnay Nichols, criminology
COLUMBIA, Tennessee—Mattie Mason, anthropology
EDWARDS—Dixie Tucker, psychology
FLORENCE—Rheagan Case, English; and Laura Duncan, communication
FRANKLIN, Tennessee—Katherine Norris, criminology
HATTIESBURG—Caroline Simpson, biological sciences
HILTON HEAD, South Carolina—Sydney Stockwell, biochemistry
HOOVER, Alabama—Emily Baker, Asian studies/finance; and Eleanor Holt, psychology
JACKSON—Jennings Duncan, English/philosophy (religion concentration)
JACKSON, Tennessee—Holeh Heydari, microbiology
JONESBORO, Arkansas—Baylee Seeman, English
LAKELAND, Tennessee—Teri Jackson, Spanish/social work
MADISON—Kalli Hedgepeth, Spanish/marketing
MARIETTA, Georgia—Mitzi Roukoski, English
MARION, Alabama—Sofia Nail, biological sciences/Spanish
MCLEAN, Virginia—Ruby Titus, English/French
MEMPHIS, Tennessee—Jared Pish, psychology
MERIDIAN—Laurel Garrett, Spanish/marketing
METAIRIE, Louisiana—Grace Troutman, psychology
MONTGOMERY, Alabama—Katherine Albrecht, history
NAVARRE, Florida—Lakin Ricchuito, classics
PEACHTREE CITY, Georgia—Amanda Kronenberger, political science
PELAHATCHIE—Hailey Reeder, English/secondary education
PRATTVILLE, Alabama—Andreana Durham, psychology
PRENTISS—Virginia Daughdrill, English
RIDGELAND—Anna Cranford, psychology
RINGOES, New Jersey—Julia Clemente, communication
SALLIS—D'Mechriea Landfair, political science
SHREVEPORT, Louisiana—Emily Hurst, English/political science
STARKVILLE—Jonathan Franz, classics/history; Lily Grado, English; Anne-Marie Ross, microbiology/biochemistry; Josephine Shanahan, German/microbiology; and Jacob Wubben, political science
STEENS—Cheryl Zant, English
VICKSBURG—Jon Bantugan, microbiology; Ryan Jarratt, philosophy/political science; and Emily Phillips, political science
WEST POINT—Kathleen Elliott, philosophy (religion concentration)
MSU is Mississippi's leading university, available online at www.msstate.edu.