Contact: Carl Smith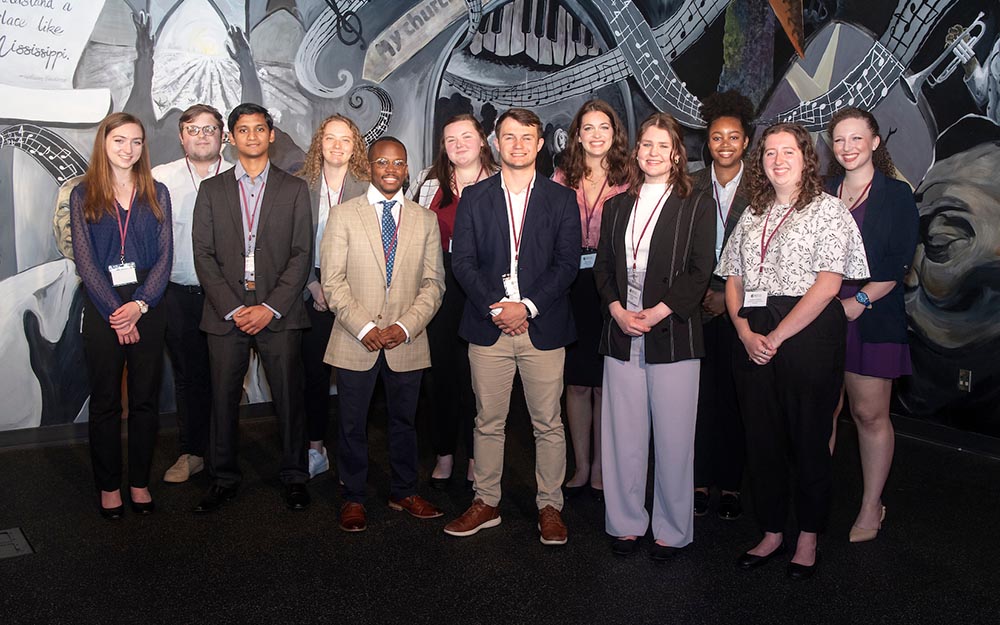 STARKVILLE, Miss.—Mississippi State students recently distilled semesters' worth of research into short and easily understandable pitches during the annual Three Minute Thesis competition.
The competition, sponsored by the MSU Graduate School, pitted 13 students from various colleges and backgrounds against each other to see who could best convey their work to judges as a test of their verbal communication skills. Their remarks ranged from general ideas and results to the nuts and bolts of specific research methods used to formulate their findings.
Judges named Sarah Dulaney, a senior microbiology major from Vicksburg, as grand champion, and Satsha Burden, a senior aerospace engineer from Tupelo, runner-up. Dulaney and Burden received cash prizes, as did senior biological sciences major Riley Cutler, who was recognized with the event's people's choice designation.
Cutler, of Herndon, Virginia, said the most gratifying aspect of the competition was "seeing other people outside of my lab and field equally excited and interested in my research."
"This competition was the culmination of three years of hard work, long hours and data collection described in the span of three minutes. It was exciting, to say the least," said Cutler, whose research focused on how an herbicide has a genetic impact on an organism in its agricultural environment. "Mississippi State has afforded me many unique experiences which have prepared me for a future in the field of biomedical visualization."
Through practice for the competition, Burden said he learned to pace himself when explaining research, a skill he's hopeful will help him with future jobs.
"I've never had to explain my project to nonaerospace people before. From this competition, I will be able to explain projects to anyone," said Burden, whose pitch focused on the aerodynamics of winglets—vertical airfoils installed on an aircraft's wingtip. "Before, I would rush through explaining things. Now, I will say that I have found my tone and speed."
Winning the competition, Dulaney said, was "a wonderful surprise" and helped validate the time and effort spent on her research on differing COVID-19 vaccine attitudes within families, specifically focusing on how much the role of parents plays in young adult outlooks on vaccines and medical decisions. She credited Holli Seitz, an assistant professor in the MSU Department of Communication who also oversees the MSU Social Science Research Center's Message Laboratory, for preparing her for the competition.
"At first, I was a little nervous. I didn't feel like my research was good enough, but she reassured me it was. I knew she had faith in me, and I wanted to do my best, so I put a lot of time and effort into my presentation and my talking points," Dulaney said. "After I finished my presentation, I knew that no matter the outcome, I was so happy to have competed."
The Three Minute Thesis competition empowers students to "break out of their shells and shatter the stereotype of a quiet, introverted lab worker," said Anastasia Elder, Shackouls Honors College associate dean and director of undergraduate research.
"An important part of being a researcher is being able to communicate the importance of findings and relate it to general audiences. It's important to be able to help others understand why we do what we do and what the significance of it is—why we're putting money, ideas and energy into things," she said. "When I was in graduate school and as a scholar, I learned effective communication was something that was not easy to do and that it took practice."
The Three Minute Thesis competition was one of four competitions held during MSU's recent Undergraduate Research Symposium, which was part of the inaugural Mississippi State University Research Week.
For more about the MSU Graduate School, visit www.grad.msstate.edu.
MSU is Mississippi's leading university, available online at www.msstate.edu.