Contact: Sam Kealhofer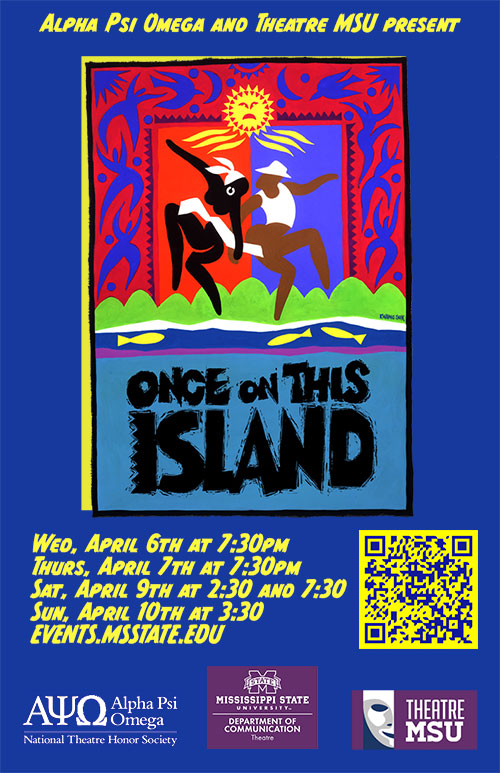 STARKVILLE, Miss.—Mississippi State's Theatre MSU will run its fourth and final production of the year this week.
"Once on This Island," a musical set in the French Antilles archipelago in the Caribbean Sea, will be presented Wednesday-Thursday [April 6-7] at 7:30 p.m., Saturday [April 9] at 2:30 p.m. and 7:30 p.m. and Sunday [April 10] at 3:30 p.m. on McComas Hall's main stage.
Admission is $10, and tickets are available at https://msstate.universitytickets.com.
Winner of the 2018 Tony Award for Best Revival of a Musical, "Once on This Island" follows "the sweeping tale of Ti Moune, a fearless peasant girl in search of her place in the world and ready to risk it all for love. Guided by the mighty Island Gods, Ti Moune sets out on a remarkable journey to reunite with the man who captured her heart," according to Theatre MSU's production description.
"The production features the brilliant work of student designers and choreographers. We are thrilled that many members of our diverse and inclusive cast are from the excellent MSU music program. Our talented cast and crew have worked beautifully together to bring this poignant musical to life, sharing the message that love has the power to transcend our differences," said Tonya Hayes, play director and assistant professor of theater performance in the Department of Communication.
Theatre MSU is the Department of Communication's production division that received a 2021 School of Excellence Award in Higher Education from Mississippi for Arts Education.
"Once on This Island" also is sponsored by Alpha Psi Omega, a national theater honor society.
Part of the College of Arts and Sciences, the Department of Communication is available online at www.comm.msstate.edu.
Follow Theatre MSU on Facebook, Twitter, and Instagram @TheatreMSU.
MSU is Mississippi's leading university, available online at www.msstate.edu.