Contact: Sam Kealhofer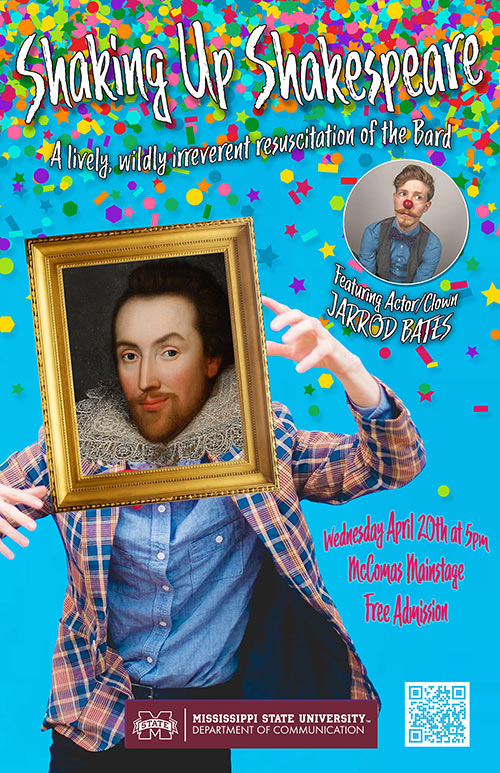 STARKVILLE, Miss.—Mississippi State's Theatre MSU is hosting former student and Shakespearean and commedia clown actor Jarrod Bates on campus April 18-22 for a week of performances, acting lessons and lectures as actor-in-residence.
Bates will present a hybrid lecture/comedy show—"Shaking Up Shakespeare: a comedic, radically irreverent resuscitation of the bard"—on Wednesday [April 20] at 5 p.m. on McComas Hall's main stage. The event is free and open to the public.
In addition, the actor will conduct a masterclass workshop for aspiring comedy actors, coach the LabRats Comedy group and provide private coaching for graduate auditions, as well as give guest lectures in some theatre classes.
Bates has made appearances with Cirque du Soleil and Bryant Park Shakespeare, among others. He is a graduate of the Neighborhood Playhouse School of the Theatre and was an apprentice under master clown teacher Christopher Bayes at the Funny School of Good Acting, both in New York City, and Yale School of Drama.
"Jarrod is a brilliant actor and teacher. His presentation will offer a fresh take on the work of William Shakespeare, pulling the bard out of the leather-bound books he is now confined to and into the raucous and exciting atmosphere of the theater," said Melanie Harris, instructor and costume designer in MSU's Department of Communication.
Theatre MSU is the Department of Communication's production division that received a 2021 School of Excellence Award in Higher Education from Mississippi Alliance for Arts Education.
Part of the College of Arts and Sciences, the Department of Communication is available online at www.comm.msstate.edu.
Follow Theatre MSU on Facebook, Twitter, and Instagram @TheatreMSU.
MSU is Mississippi's leading university, available online at www.msstate.edu.