Contact: Meg Henderson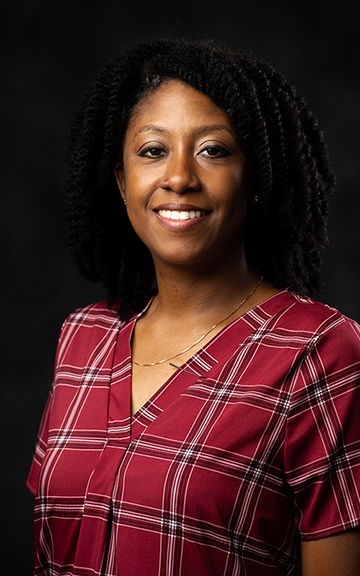 STARKVILLE, Miss.—After 12 years working at Mississippi State's Child Development and Family Studies Center—first as an intern, then teacher and most recently as manager—Samantha Jones now leads the program that provides hands-on learning for university students planning to work with young children and families. 
Jones, known by the center's children and parents as "Miss Sam," has two MSU human development and family science degrees, including a 2014 Master of Science. She succeeds Melissa Tenhet, who directed the center for eight years until stepping down in late 2021.
"We are very excited to have Sam as director. I have known her as a teacher and a manager, and she will provide excellent leadership in her new role," said Michael Newman, professor and director of the School of Human Sciences in MSU's College of Agriculture and Life Sciences.
Jones said she cares for the center's more than 200 enrolled infants, toddlers and preschool-age children as if they were her own and looks forward to leading the CDFSC. She also is a volunteer in the community, directing fundraising and scholarship programs for local students and leading training conferences locally and statewide.
"It's not something I ever imagined possible, but I'm grateful for the opportunity," she said. "I want others to see the rewards of a positive attitude and giving it your best, even in entry-level jobs or internships."
CDFSC opened in 1972 as a preschool and laboratory for human sciences majors. In 1985, infant and toddler classes were added, and construction of the current facility was completed in 1997, with an addition in 2019. The National Association for the Education of Young Children-certified center offers experienced-based and age-appropriate curriculum. The rigorous NAEYC accreditation, held by fewer than 10 schools in the state, is the gold standard in early education, and Jones has participated in two rounds of the five-year accreditation process as a teacher and administrator.
"The school's primary purpose from the beginning was to provide a place for students to gain experience working under the supervision of qualified instructors. We provide a great service for campus, but we are a learning laboratory, first and foremost," said Newman, who also took lab classes at the center as a doctoral student.
MSU student interns assist teachers and teacher's assistants where needed and remain with a classroom for the semester, allowing both students and children a more personalized learning experience.
"It's excellent hands-on experience for students to figure out whether they want to work with children and which ages they prefer. It's also rewarding to see them work through the process, and the children enjoy it as well," Jones said.
For more information on MSU's Child Development and Family Studies Center, visit https://www.humansci.msstate.edu/cdfsc/.
MSU is Mississippi's leading university, available online at www.msstate.edu.