Contact: Harriet Laird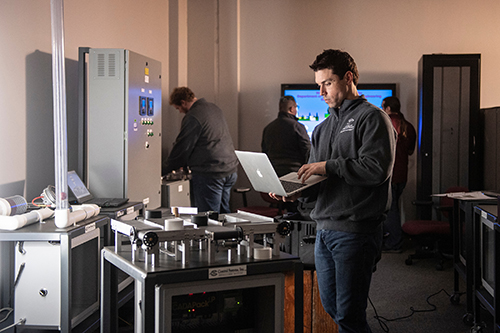 STARKVILLE, Miss.—Students at Mississippi State now have a new, one-of-a-kind program to consider when weighing degree options at the university.
The Mississippi Institutions of Higher Learning Board of Trustees approved MSU's new Bachelor of Science in Data Science degree program today [May 19].
The state-of-the-art curriculum goes beyond traditional data science degrees "to meet the growing demand for experts who can solve problems through digital transformation," said Mimmo Parisi, MSU's senior advisor for data science development.
While MSU's program becomes one of only two in the Southeastern Conference and among less than 75 nationwide, it is unique, he said.
Parisi explained that the innovative MSU degree recognizes that industries are moving toward digital transformation—a blend of the physical world with digital aspects—to rapidly progress their businesses and develop in a fast-paced economy.
The key for employers, he said, is hiring data science experts with interdisciplinary, critical thinking skills including statistics, ethics, geoinformatics, computational intelligence and cybersecurity, smart agriculture and more.
Existing programs "are primarily focused on data as a source of information and on data analytics," he said.
"Our multi-field approach with this degree program will train graduates for the 11 million U.S. jobs that the Bureau of Labor Statistics estimates will require data science skills and knowledge by 2026," said Parisi, who also is a professor in MSU's Department of Sociology. He noted that the World Economic Forum predicts 50% of employees by 2025 will need reskilling which includes data science.
Beginning this fall, MSU's program will heavily incorporate the tool of artificial intelligence (AI) powered by big data in nine academic concentrations within six of the university's eight colleges. These degree pathways are:
—visualization and visual analytics for the built environment
—computational agriculture and natural resources
—business information systems
—marketing and supply chain analysis
—social data analysis
—psycho informatics
—statistical modeling
—computational intelligence, and
—geoinformatics
MSU Provost and Executive Vice President David Shaw said, "Data and AI are changing the way we live, work and learn, and employers are looking for people whose skills are beyond occupation-specific. Businesses are hiring data science experts today who have the critical thinking, communication and core data science competencies to help uncover hidden solutions, automate decision-making processes, increase efficiencies and more."
For freshman student admission to the program, students must be admitted to MSU and have completed a specific number of high school academic core units in English, mathematics, science, biology and/or physics, social studies and/or foreign languages and electives. ACT scores can vary depending on grade-point average. Current MSU students also may transfer to the new program, along with those from other colleges and universities. Coursework already completed outside the degree will be evaluated to determine if it will be accepted.
More information on the Bachelor of Science in Data Science and its concentrations is available at https://dsci.msstate.edu/.
MSU is Mississippi's leading university, available online at www.msstate.edu.