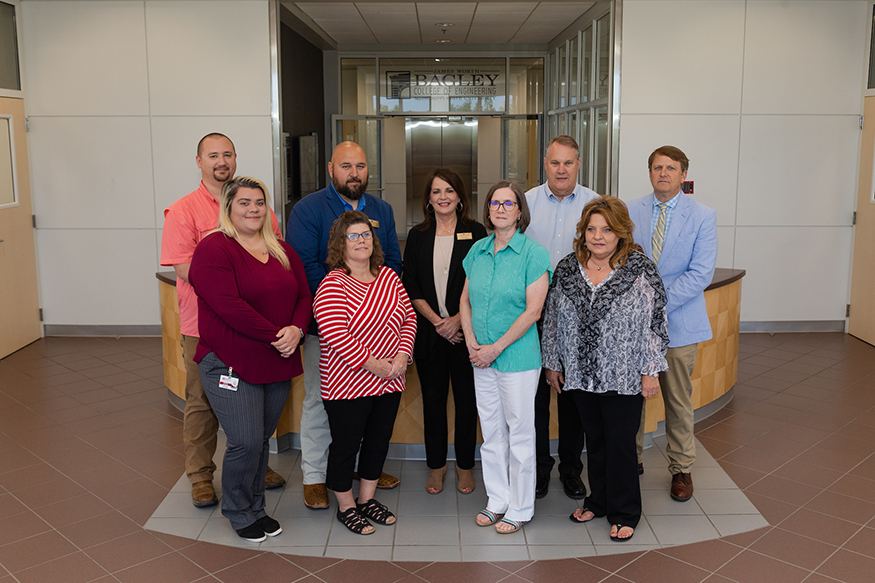 Contact: James Carskadon
CANTON, Miss.—A consortium led by Mississippi State University's Center for Advanced Vehicular Systems-Extension is working with area community colleges and healthcare systems to expand healthcare training and opportunities.
Backed by an $800,000 grant from the Rural Business-Cooperative Service of the U.S.  Department of Agriculture under its Delta Health Care Services Grant Program, CAVS-Extension launched the Delta BroadReach Healthcare project in 2020 in coordination with Copiah-Lincoln Community College, Hinds Community College, North Central Planning and Development District and area healthcare providers. In less than two years, the project has resulted in 191 health workers trained, improving processes at 60 hospitals and clinics, 186 patients served through telehealth services and 100 patients' family members/caretakers being educated on telehealth services.
"I am extremely proud of the impact this grant has made in the healthcare community, from EMT training to telehealth and improving processes at medical facilities," said John Moore, CAVS-Extension principal investigator for the grant and Healthcare Lean Certificate instructor. "None of this would be possible without a strong network of partners to help carry out the goals of the project, and I want to thank everyone involved that has helped make a positive impact on healthcare in Mississippi."
The project builds on CAVS-E's "lean hospitals" program that helps healthcare providers improve the quality of care for patients by reducing inefficiencies, errors and waiting times and improving healthcare and operational processes. To date, CAVS-Extension has administered the training to more than 600 healthcare employees in Mississippi.
As part of the grant, Copiah-Lincoln Community College purchased telehealth equipment and partnered with Franklin County Memorial Hospital Clinic to train healthcare professionals and patients on utilizing the devices.
"As a healthcare professional with experience in the rural setting, I can fully appreciate the benefits of this grant to the patients, staff, and facility," said Robin Mitchell, Co-Lin Community College workforce coordinator/trainer. "This technology allows patients to check routine vitals and safely upload the data into a medical chart without leaving home. This is a winning situation for patient care and facility effectiveness."
The grant also supports the expansion of emergency medical technician training at Hinds Community College, covering training costs for students and high-quality manikins that provide real-time feedback to students in vital areas such as breathing capacity and blood loss.
"Our students are able to focus more on their education and have the peace of mind that, financially, this course is taken care of," said Thomas Goodwin, HCC paramedic program director and EMS department chair. "This grant has allowed students an opportunity to become a first responder and serve the community in which they live. The grant funds have also afforded us the opportunity to purchase some additional high-fidelity simulation manikins for our students to practice the skills they are taught."
In addition to the community college partnerships, CAVS-Extension has worked with area medical providers such as Greenwood-Leflore Hospital, Southwest Regional Medical Center and Franklin County Memorial Hospital to provide lean hospitals training and implement lean principles.
For more on CAVS-Extension, visit www.cavse.msstate.edu.