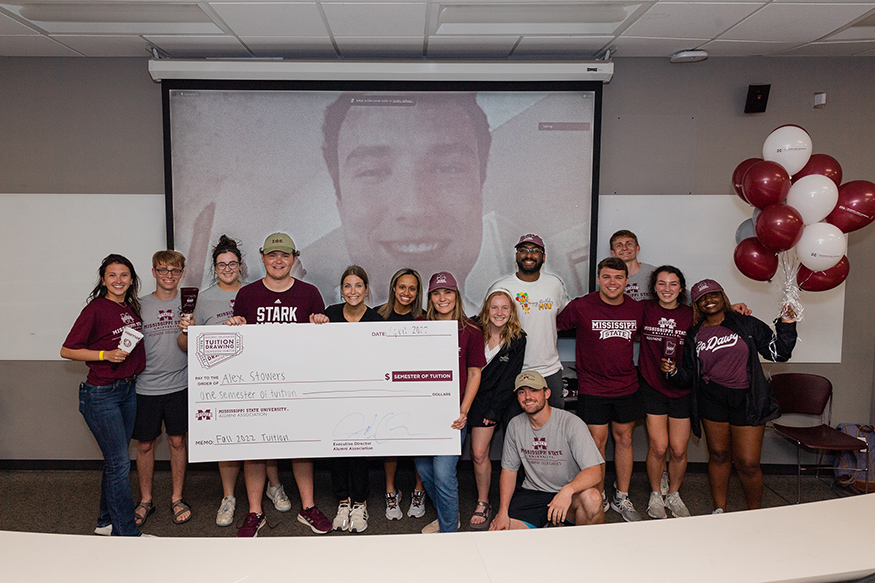 Contact: Addie Mayfield
STARKVILLE, Miss.—The Mississippi State University Alumni Association announces Alex K. Stowers of Guntown as the recipient of the 17th tuition drawing. For the upcoming fall 2022 semester at Mississippi State, Stowers will be awarded 12 credit hours of "free" tuition.
A senior business administration major, Stowers was surprised with the presentation of an oversized check during his evening class last month. He said he is grateful to the MSU Alumni Association and its student organization for the generous gift awarded through the drawing.
Stowers' ticket was one of more than 3,500 tickets sold by the Alumni Delegates—the association's student organization—offering MSU students a chance to win one semester of free in-state tuition. Eligible students include any undergraduate enrolled full time at the university. This semester, the Alumni Delegates raised $14,760 from ticket sales.
The tuition drawing program began in 2013 and the Alumni Association and Alumni Delegates are proud of the meaningful tradition it has shaped over the years.
"The tuition drawing is a way for the Alumni Delegates to positively influence the connections shared between MSU and our students, parents and alumni," said Jeff Davis, executive director of the Alumni Association. "The additional funds raised through the drawing will support scholarships and priority programs within our association, further benefiting student experiences." 
Founded in 1980, the Alumni Delegates is a diverse group of students serving as liaisons between the 144-year-old institution and its more than 155,000 living graduates. Members assist with organizational programs and activities on behalf of the association, such as football tailgate gatherings, class reunions and the association's annual awards banquet and leadership conference.
The MSU Alumni Association anticipates ticket sales in the fall for the drawing of a spring 2023 winner. For more information about the tuition drawing, contact Jordan Ramsey, the association's associate director and Alumni Delegates advisor, at 662-325-7000 or jramsey@alumni.msstate.edu.
MSU is Mississippi's leading university, available online at www.msstate.edu.