Contact: Sarah Nicholas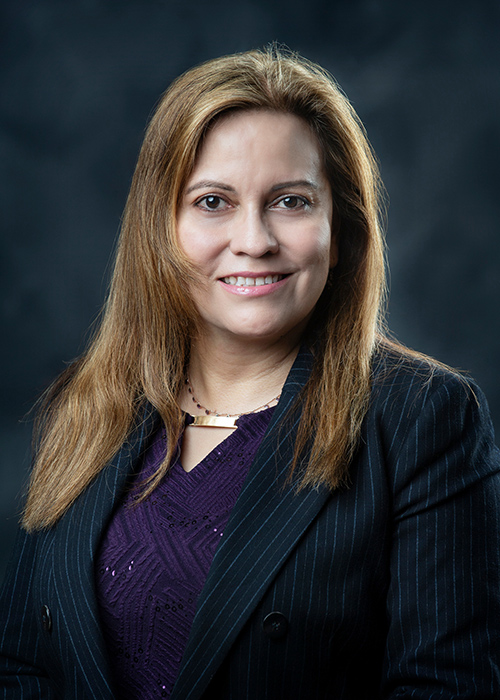 STARKVILLE, Miss.–A Mississippi State faculty member is the recipient of a National Science Foundation CAREER Award totaling more than half a million dollars to research new chemical methods for removing harmful contaminants from petroleum and feedstocks.
Vicky Montiel-Palma, an assistant professor of chemistry, received the five-year $691,886 grant from the NSF Division of Chemistry Chemical Synthesis Program for her proposal, "CAREER: Heterobimetallic Complexes for Facile Hydrodenitrogenation Processes with Low Hydrogen Intake."
Her research investigates catalysts that remove nitrogen from aromatic compounds commonly present in gasolines and petroleum feedstocks. Aromatic compounds containing nitrogen are responsible for severe adverse effects to the environment and human health, including acid rain and asthma.
"Current industry standards for removing aromatic compounds containing nitrogen are inefficient and developing catalysts able to break the aromatic C-N bonds of these compounds is a huge challenge," Montiel-Palma said.
Montiel-Palma joined MSU's faculty in 2018 and has established the Synthetic Organometallic Chemistry and Catalysis Laboratory, recruiting a diverse group of high school, undergraduate, and graduate students.
"The research proposed by Dr. Montiel-Palma is founded upon her group's discovery of a remarkable and novel method to denitrogenate aromatic compounds," said Dennis W. Smith Jr., professor in the Department of Chemistry. "Her proposal addresses the basic understanding of heterometallic systems with a very important—yet underdeveloped—industrial application."
Current industrial conditions use high pressures of hydrogen gas, usually 2900 psi, and harsh temperatures, typically 660-930 °F, according to Montiel-Palma.
"By using organometallic compounds incorporating two types of metals—a precious metal and a main group metal—we are developing a fundamental insight to design new compounds that react with aromatic N-containing compounds and break the C-N bonds without the need for elevated hydrogen pressures," she said.
In partnership with the Mississippi Migrant Education Service Center at MSU, Montiel-Palma will work with children of migratory workers with income sources in agriculture, farming, fisheries and meat processing as part of her NSF CAREER program's educational component.
"I believe the root cause of low academic performance lies in a combination of disadvantaged economic circumstances, lack of social stability, and limited access to educational resources," Montiel-Palma said. "The children of migrant workers often endure all of these limitations and can be regarded as some of the most vulnerable members of our society. I plan to combat educational inequities by addressing scientific topics to enrich students' educational pathways and motivate them to finish secondary education."
Montiel-Palma credits her research team for helping secure the CAREER award, including MSU graduate students Gaby Sanchez-Lecuona, Niroshani Abeynayake, Luz J. Barrios-Vargas and Miguel A. Cabrera-Briseno.
She earned her Ph.D. from the University of York, England, and was a post-doctoral fellow at the Laboratory of Coordination Chemistry–French National Research Center in Toulouse, France. She earned her bachelor's degree from the National Autonomous University of Mexico.
Part of the College of Arts and Sciences, more information about the Department of Chemistry is available at www.chemistry.msstate.edu.
MSU is Mississippi's leading university, available online at www.msstate.edu.