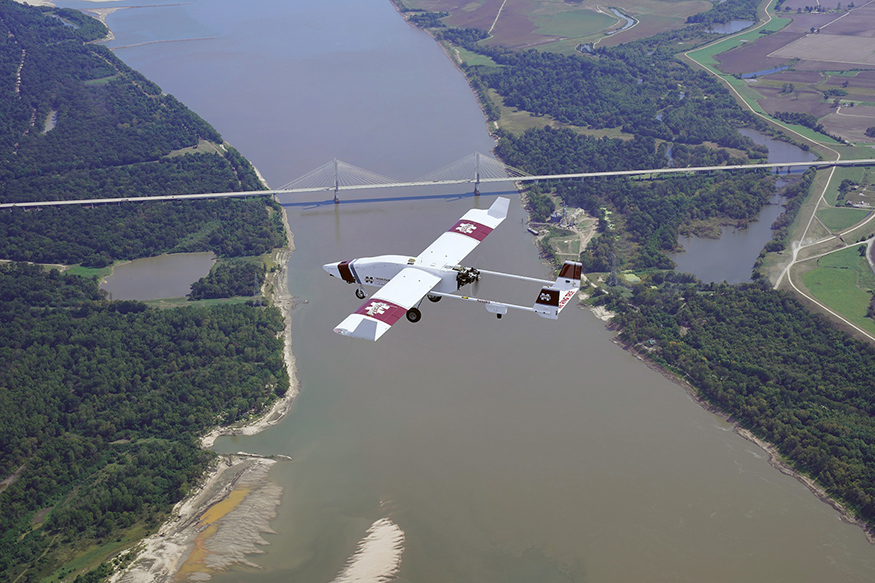 Contact: Alex Nash
STARKVILLE, Miss.—A Mississippi State flight lab will display one of its TigerShark uncrewed aircraft systems during portions of Aviation Days July 15-16 at the Greenville Mid-Delta Airport.
The event begins at 6 p.m. July 15 with tethered hot air balloon rides, entertainment and food. The next day, beginning at 8 a.m., static aircraft, including the MSU Raspet Flight Research Laboratory's TigerShark, will be displayed, and balloon flights will be held. An air show, featuring the Aeroshell Aerobatic Team, begins at 11 a.m. The airport is five miles northeast of Greenville's business district.
"We look forward to participating in this exciting event," said Tom Brooks, director of the Raspet Flight Lab. "We enjoy being a part of Mississippi's airshows and interacting with aviation fans of all ages and our fellow aviators, and it's always great to see other aircraft and balloons on display and in action."
In addition to the 350-pound TigerShark, one of Raspet's ground control stations—a mobile command center that serves as a cockpit during UAS flights—will be displayed.
The TigerShark Block 3 XP UAS, designed and built by the Navmar Applied Sciences Corp., can stay aloft for more than eight hours, carry up to 100 pounds of research equipment, and has a maximum speed of 80 knots or about 92 mph. Used in a variety of research efforts, it can, when equipped with sophisticated sensors, provide real-time, inch-accurate flood estimates to national agencies during natural disasters.
There is no admission fee for Aviation Days, and parking at the airport is available for $10 per vehicle. For more information about the event, see the Greenville Aviation Days' Facebook page.
MSU's Raspet Flight Research Laboratory is the nation's leading academic research center dedicated to the advancement of uncrewed aircraft systems. Raspet is the only institute in the world designated both as the FAA's UAS Safety Research Facility and as official UAS Test Sites for both the FAA and the Department of Homeland Security. Home to a fleet of the largest and most capable uncrewed aircraft in academic use, Raspet conducts UAS research on behalf of federal agencies and commercial industry alike.
MSU is Mississippi's leading university, available online at www.msstate.edu.