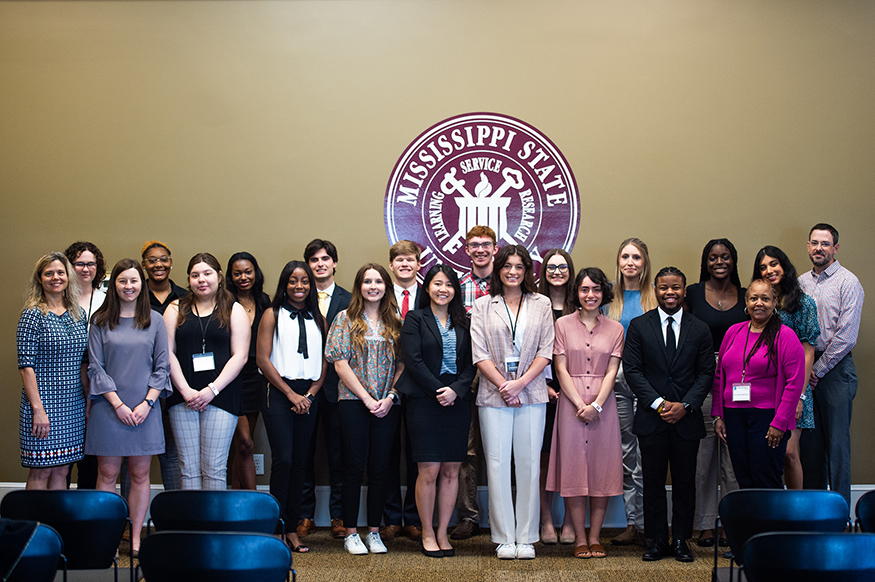 Contact: Wade Leonard
STARKVILLE, Miss.—Mississippi State University welcomed 18 students from across the country to the Magnolia State for the fifth annual Delta Scholars Program Summer Institute.
Founded in 2018 and sponsored by MSU's Judy and Bobby Shackouls Honors College, the Delta Scholars Summer Institute is a 12-day event that allows program students to both learn about and understand the Mississippi Delta, while also working to develop solutions for the challenges it faces.
"To borrow a phrase from the brilliant professor Imani Perry, the Mississippi Delta is the soul of the country," said Bizu Gelaye, an associate professor of epidemiology at Harvard University and a Delta Scholars mentor. "Where better to understand the economic, cultural and epidemiological challenges this country faces?"
Prior to coming to the Shackouls Honors College, the Delta Scholars took a weeklong "innovation tour" of the Delta, where they toured cities such as Cleveland and Clarksdale. They met with researchers, non-profit organizations and community members who work to not only bring attention to the challenges facing the Delta, but also possible solutions. 
"We focused on numerous issues that face our state, such as food insecurity, housing and health care," said Delta Scholar Malore Jones, an MSU agribusiness major. "We are learning how to make our state a better place. I already wanted to make Mississippi a better place, but this program has shown me how much that is needed."
John Green, director of the MSU-led Southern Rural Development Center and Delta Scholars mentor, said the program's focus is to prepare future leaders who have a knack for interdisciplinary collaboration across multiple states and institutions. The goal is to help students focus on innovative problem-solving for community and regional development, especially as it relates to health, well-being and quality of life.
"We feature the Mississippi Delta because as a region it has faced many challenges, but through engaging with those challenges we see community-level and state-level leaders proposing and developing alternative solutions. The students have chance to learn from those leaders and that approach," said Green.
This year's student cohort includes students from MSU, Alcorn State, Brandeis, Harvard and Mississippi Valley State universities, Centre College, New Jersey Institute of Technology and the universities of Kentucky, Mississippi and Missouri. 
In the fall, the cohort of Delta Scholars will meet again for five days at Harvard in Cambridge, Massachusetts, to reflect on their time in Mississippi, update one another on their projects, receive continuing feedback, reflect on lessons learned from the program, and discuss how these lessons might be applied to solving other problems in or outside of the Magnolia State.
The Delta Scholars program is a collaborative effort between MSU's Shackouls Honors College and Southern Rural Development Center, University of Mississippi's Center for Population Studies, the Delta Directions Consortium, Harvard School of Public Health, Harvard Law School, the Phillips Brooks House Center for Public Service and Engaged Scholarship at Harvard College, and Brandeis University.
For more information about Shackouls Honors College, visit honors.msstate.edu. 
MSU is Mississippi's leading university, available online at www.msstate.edu.