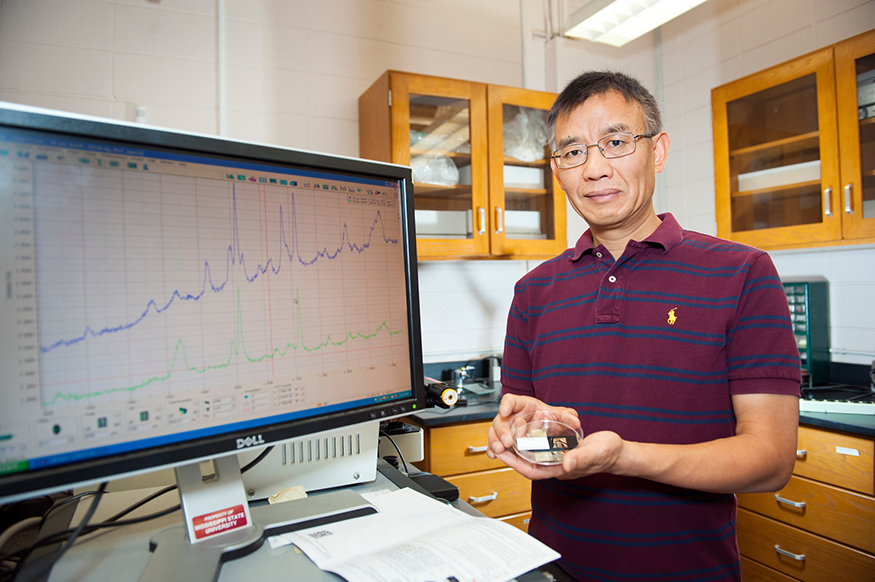 Contact: Sarah Nicholas
STARKVILLE, Miss.—A Mississippi State faculty member in the Department of Chemistry is the principal investigator of a $390,000 National Science Foundation grant to develop an optical spectrometer to study materials' spectral chemical sizes, shapes and chemical compositions, as well as their optical properties. The research could lead to new discoveries about materials and their makeup.
Professor Dongmao Zhang's three-year project—"Instrument Development: Modular, Multitrack, and Multifunctional Linearly Polarized Spectrometer for Synchronized Multispectral Characterization of Molecular Assembly"—seeks to find insights into the light absorption, scattering and photoluminescence of materials and how these optical features encode the materials' geometric and chemical structures.
 "Macromolecules, supramolecules, and nanoscale and larger materials have become increasingly important in research and development in chemistry, biology and materials sciences," Zhang said. "However, existing tools are limited in the informational output, and do not allow simultaneous monitoring of the interrelated materials' structure with optical property changes."
 Zhang's NSF grant will support his effort to develop new technology to help resolve issues related to the current optical spectroscopic methods where the complex interplay among the light absorption, scattering and emission are inadequately addressed, he said.
 "The novel technology being developed by Zhang enables concurrent real-time monitoring of materials' structure and property evolution, which is critical to understanding structure-property correlations in many dynamic chemical and biological systems" said Giselle Thibaudeau, MSU associate dean for research and interim head of the chemistry department. "These efforts will have a significant impact on materials discovery, design and optimalization across many fields of science and technology."
To date, the Zhang Lab at MSU has developed four variants of linearly polarized spectroscopic techniques and demonstrated their unique capabilities for materials characterizations with steady-state systems. 
Zhang's compilation of work led to his 2017 designation as Chemist of the Year by the Mississippi Section of the American Chemical Society. Also in 2017, Zhang was added to a group of worldwide researchers cited in the Journal of Physical Chemistry C, a premier journal in the field.
For more on Zhang and his research, visit www.chemistry.msstate.edu/people/faculty/dongmao-zhang.
Zhang joined the MSU faculty in 2008 and currently is investigating nanoparticle interfacial interactions, optical spectroscopy and analytical method design. After graduating in 1987 from China's Wuhan University, he earned a doctorate in 2002 from Purdue University in Indiana.
Part of MSU's College of Arts and Sciences, the Department of Chemistry is online at www.chemistry.msstate.edu.  
MSU is Mississippi's leading university, available online at www.msstate.edu.