Contact: Carl Smith
STARKVILLE, Miss.—A recent donation by Kroger is helping stock an important on-campus source of food, toiletries and household items for Mississippi State students in need.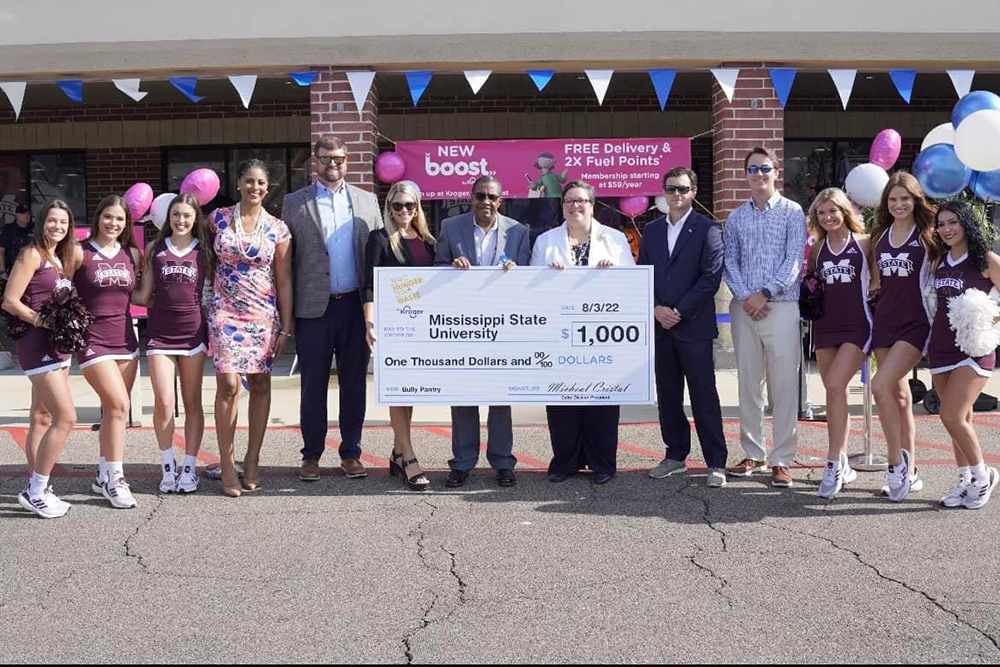 Bully's Closet and Pantry recently received a $1,000 check via Kroger's Zero Hunger | Zero Waste initiative as the national grocery store chain celebrated the grand reopening of its Starkville location. Making the donation was Michael Cristal, president of Kroger's Delta Division and a former MSU student. He also is the past national president of Phi Beta Sigma Fraternity Inc. and is involved with the MSU Black Alumni Advisory Council and the Black Alumni Weekend planning team.
"MSU and the Starkville community are fortunate to have incredible partners like Kroger in our community. We are so grateful for their commitment to our students and to reducing food insecurity on campus and beyond," said Vice President for Student Affairs Regina Hyatt. "I especially want to thank Michael Cristal for continuing to give back to MSU."
Established in 2020, Bully's Closet and Pantry is a collaboration between the Division of Student Affairs and the Student Association, and is part of the MSU Food Security Network, a broader initiative aiming to meet students' basic needs throughout their time at the university.
BCP has provided more than $25,000 worth of food and $28,000 worth of essential personal and household supplies to more than 1,100 students since its opening.
The 120 Morgan Ave. location operates 1-6 p.m. on Mondays, Tuesdays and Fridays, and offers items free of charge to students who present a valid MSU ID. Physical donations may be made at the drop-off location behind BCP, while tax-deductible monetary donations to the MSU Food Security Network Fund can be made through the MSU Foundation at www.accelerate.msstate.edu. Volunteer opportunities are available for those who would like to assist with supply unloading, sorting and stocking efforts.
Cristal, a Grenada native, is a former Kroger vice president of operations and vice president of merchandising who began his almost-40-year career with the company as an assistant store manager. He served as Phi Beta Sigma Fraternity's elected president from 2017 to 2019, providing leadership with business strategies, operations and membership-related initiatives. He also is involved in other community-serving organizations, including the Boys and Girls Club, National Urban League and United Way.
For more information about BCP, call the MSU Dean of Students Office at (662) 325-3611, email the MSU Food Security Network at blockbyblock@msstate.edu or visit www.students.msstate.edu/resources/msu-food-security-network.
MSU is Mississippi's leading university, available online at www.msstate.edu.