Contact: Addie Mayfield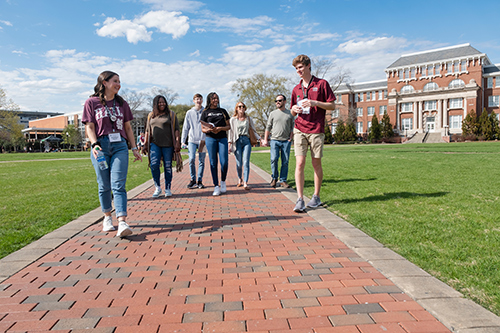 STARKVILLE, Miss.—Support from alumni, friends and partners enabled Mississippi State University to raise a record $125.3 million in cash and gift commitments for the 2022 fiscal year, exceeding MSU's previous fundraising record and marking the ninth consecutive year of private gifts totaling $100 million.
"Our university has experienced unprecedented growth and success this past decade, and the investments of our alumni and friends have been essential to our work as we prepare students for the jobs of the future, pursue innovative research, and enhance economic opportunity for all Mississippians. I am especially proud that we continue to be a leader with our alumni participation," said MSU President Mark E. Keenum. "This private investment ensures that Mississippi State students have opportunities to learn from world-class faculty, engage in groundbreaking research, serve others, and appreciate the timeless values of integrity, hard work and respect. Our students, faculty and staff are grateful for this record level of support during the past fiscal year."
The success of FY 22, which ended on June 30, was fueled through the generosity of 21,189 unique contributors. Their gifts strengthened support for areas across the university and are helping to uphold the 144-year-old land grant's standard of excellence.
"The Bulldog family prioritized their support for MSU more than ever this past year, providing incredible momentum to drive the success of our students, faculty and the wider communities we serve," said John P. Rush, president and CEO of the MSU Foundation. "We are grateful for their generosity and commitment to our university and look forward to building on this success together."
Alumni participation again reached over 19 percent (19.7%), enabling MSU to maintain its ranking ahead of several major peer institutions in the measure of support among former students. Additionally, nearly 7,000 individuals contributed to MSU for their first time and more than $5.3 million of the total funds raised were accounted from gifts of $1,000 or below.
Such generous investments enabled more than 4,000 private scholarships to be awarded to students in FY 22. Other highlights of the 2022 year-end gifts, among others, included:
--Gifts that support numerous scholarships university-wide. Some examples include additional Presidential Endowed Scholarships that expand MSU's efforts to attract top students; funds for the MSU Promise Program that assists students with potential who are Mississippi residents with economically challenging situations; and more specific awards including one created by a former student to honor a professor in the Bagley College of Engineering, as well as others benefitting areas such as cybersecurity, meteorology and 4-H. Enhanced commitments from the Robert M. Hearin Support Foundation and the Luckyday Foundation also will grow MSU's Mississippi Excellence in Teaching (METP) Scholarship and Luckyday Scholars Program, respectively.
—Endowed faculty positions were heightened through gifts that created and enhanced faculty fellowships in the College of Business, and professorship and chair positions in the Adkerson School of Accountancy, College of Veterinary Medicine and Bagley College of Engineering, among others. Among the newly established positions is a chair dedicated to advancing diversity and inclusive opportunities at MSU through the Bagley College.
—A commitment for the McKay Predictive Analytics and Technology Integration Lab Endowment will greatly enhance the university's capacity to perform innovative research that will shape and expand the economic and societal impacts of the world's rapidly growing "big data."
—Gifts for development funds will advance entrepreneurship at MSU through support for the Center for Entrepreneurship and Outreach, iDEE Lab, Idea Shop and additional makerspaces—all of which provide valuable resources and opportunities for the entire campus community.
—Investments in student travel programs, particularly in the College of Architecture, Art and Design, will engage students in meaningful experiences to expand their perspectives and cultural understandings.
—Support from The Riley Foundation is greatly expanding MSU-Meridian's healthcare programs, increasing opportunities to prepare Mississippi students to meet the needs of the medical industry.
—Significant commitments for technology and research in the College of Agriculture and Life Sciences are enabling the university to bolster the state's economic engine by building a strong ag-autonomy industry in Mississippi.
—Gifts for excellence funds in the College of Education will impact disability outreach services and relevant learning opportunities through enhanced support for resources and programming in MSU's T. K. Martin Center for Technology and Disability and the Autism and Developmental Disabilities Clinic.
—Deferred gifts collectively soared to nearly $33 million, heightening support for a wide range of university programs.
—The MSU Foundation currently holds approximately 12,700 acres of land. Nearly 8,000 additional acres also make up the Foundation's Legacy Properties as deferred gifts. These properties provide a living, learning laboratory for students to gain hands-on knowledge in natural sciences and renewable resources.
—Gifts to MSU Athletics totaling $29.8 million will provide resources and support for Bulldog student-athletes and coaches, while advancing facility enhancement projects, including the renovation of Humphrey Coliseum.
Other gifts from the just-ended year will support fundraising priorities such as scholarships and academic initiatives, enhanced research and outreach engagements, faculty support and campus infrastructure, among others that collectively contribute to more enriching student experiences and strategic overall success.
Most of the institution's fundraising is conducted by the MSU Foundation that was established in 1962 to help attract support from private sources. More information about the MSU Foundation can be found online at www.msufoundation.com.