Contact: Sarah Nicholas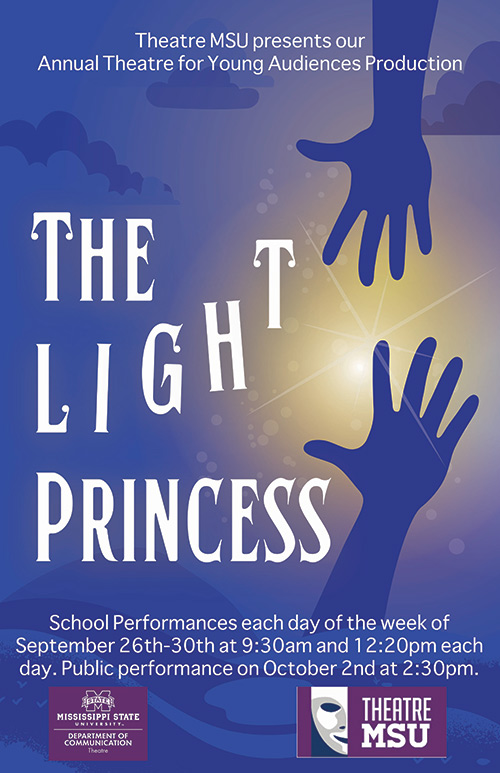 STARKVILLE, Miss.—Mississippi State's award-winning Theatre MSU debuts its new season this month with performances of from fantasy and fairytale, and nostalgia and murder.
Theatre MSU is the Department of Communication's production division and 2021 School of Excellence Awardee in Higher Education from the Mississippi Alliance for Arts Education.
As part of its four annual mainstage productions, the 2022-2023 season presents "The Light Princess," "It's a Wonderful Life: Live Radio Play," "Macbeth" and "Studio Maroon" —a student-led production, completely written, produced and acted by MSU students.
Theatre MSU marks the beginning of its theatrical season with the Emily Snyder play, "The Light Princess," on the McComas Hall main stage for area schools September 26-30 by reservation. An October 2 matinee for the public begins at 2:30 p.m. Produced with special arrangements with YouthPLAYS publishing, the production is part of MSU's annual children's theater production.
"Theatre MSU is notable in Mississippi as one of the only programs with a sustained commitment to Theatre for Young Audiences, having staged works for area youth since 1984," said Tonya S. Hays, assistant professor of theater performance and Theatre MSU director. "Our students frequently transform their work in TYA into careers in theatre education, including recent graduates who have created their own company."
"When a princess is cursed with a lack of gravity, it seems the worst that can happen is that she might float around. But the curse goes deeper than that, for the Light Princess can't feel, can't empathize—and never, ever cries. Full of action, adventure, witches and duels, swimming and soaring…this innovative adaptation of George MacDonald's classic fairy tale is sure to lift your spirits," according to a YouthPLAYS description.
Tickets for the public show are available for $5 at www.events.msstate.edu. Email jak321@msstate.edu or thays@comm.msstate.edu for school reservations or more information.
In November, Theatre MSU presents "It's A Wonderful Life: Live Radio Play" by Philip Van Doren Stern, produced by special arrangement with Playscripts.com. Audiences can celebrate the season with the Christmas classic November 16-18, at 7:30 p.m. and Nov. 20 at 2:30 p.m.
Planned for Spring 2023, Theatre MSU will present William Shakespeare's tragedy, "Macbeth" Feb. 22-25 at 7:30 p.m. and Feb. 26 at 2:30 p.m.
Tickets are available for $10 at www.events.msstate.edu.
The final show of the season, "Studio Maroon," is a student led one-act play featuring new works by Theatre MSU playwrights and directed by student directors. More details about this April event will be provided in the new year.
Part of the College of Arts and Sciences, the Department of Communication is available online at www.comm.msstate.edu.
Follow Theatre MSU on Facebook, Twitter, and Instagram @TheatreMSU.
MSU is Mississippi's leading university, available online at www.msstate.edu.