Contact: Carl Smith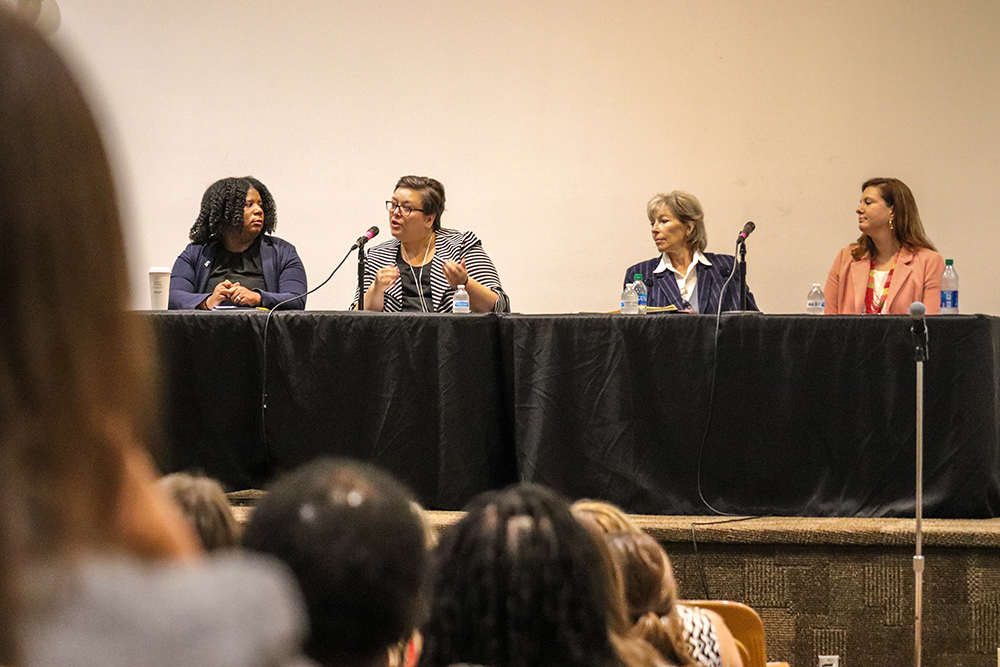 STARKVILLE, Miss.—Women in key Mississippi State and local leadership positions recently reflected on their career paths, discussed barriers and hardships they faced while climbing the professional ladder and offered advice to those aspiring to make a difference on campus and in their communities.
MSU faculty and staff gathered Tuesday [Sept. 20] in Bost Auditorium for "Let's Talk About That!: Women in Leadership," a panel discussion including Ra'Sheda Forbes, vice president for Access, Diversity and Inclusion; Regina Hyatt, vice president for Student Affairs; Bethany Mills, Career Center executive director; and Starkville Mayor Lynn Spruill. Moderated by Aundrea Self, a veteran WCBI journalist and MSU Department of Communication lecturer, the panel covered a wide variety of topics specific to women's workplace experiences, from having their credentials and expertise challenged while navigating male-dominated power structures to creating an inclusive climate in which women can share their stories.
"Oftentimes for women, we might have been told stories or a narrative about what we can or can't do or become that have been incorrect. It's important to look inside and figure out what your talents and strengths are and if you're speaking up when given the opportunity to show off those talents," Mills said. "It's really important for women to know it's time to squash those narratives. Create your own narrative and figure out how you can become part of something bigger."
Having a leadership role, Hyatt said, affords her the opportunity to advocate for herself and other women.
"Part of our responsibility is to talk about how leadership manifests itself in a variety of ways, and it's partly the responsibility of the people in those spaces to recognize that leadership can happen in a lot of different ways," she said. "We have to take responsibility for our own advocacy. We are capable, and we have the skill sets necessary to lead and do the work."
To create more equitable spaces in the workplace, Forbes said women should feel comfortable to be their true selves, which includes roles and identities beyond simply being a woman.
"We often talk about it as if women only exist in spaces just as women, but they also exist in spaces as women of color, mothers, wives—these are women who are holding other identities that are both multiple and intersecting. We have to give space so that people—women in particular—can show up in spaces being their authentic selves," Forbes said. "Sometimes, we feel the need to put identity out in the background, so we don't feel like we get to show up as who we actually are."
The best way to bring more women to leadership roles in the future is by women continuing to make a difference today, said Spruill, who was the first female U.S. Navy pilot to land an airplane on an aircraft carrier. She recalled Emily Warner, who was the first woman to become a U.S. airline captain in 1976, and said the broken barrier was "a doorway to know that opportunity was available."
"To know there was someone out there doing it says, 'Yeah, this is something that's extremely achievable,'" Spruill said. "You're out there and you're doing things—you're visible. Be available, be out there and be visible—those are obligations. You lead by being seen."
Forbes said it's important for women to leverage their current positions to normalize future generations' expectations of what leadership can look like.
"Last year, my two oldest boys were huddled in a corner and whispering. I asked what they were whispering about, and my oldest son pulls up the press release from when I became vice president. He said, 'Oh, mama, you didn't tell me you were a big deal,'" she said. "That was the moment I recognized that they're watching us, and that's informing the decisions they make and how they think about themselves and the world. The only thing I knew to respond back to them was to never allow the trauma of their past determine what happens in their future and to always look for whatever platform they have and use it.
"That's the thing I walk away with every single day: It's not about the title, and it's not about the accolades. It's about the platform and using the platform, and we have to aspire for that platform," Forbes added. "Future generations are looking at us to determine what they can do and what they shouldn't do, so leveraging my platform to make an impact is huge."
For more information on the MSU Human Resources Management-sponsored panel discussion, contact Brad Skelton at bskelton@hrm.msstate.edu.
MSU is Mississippi's leading university, available online at www.msstate.edu.