Contact: Aspen Harris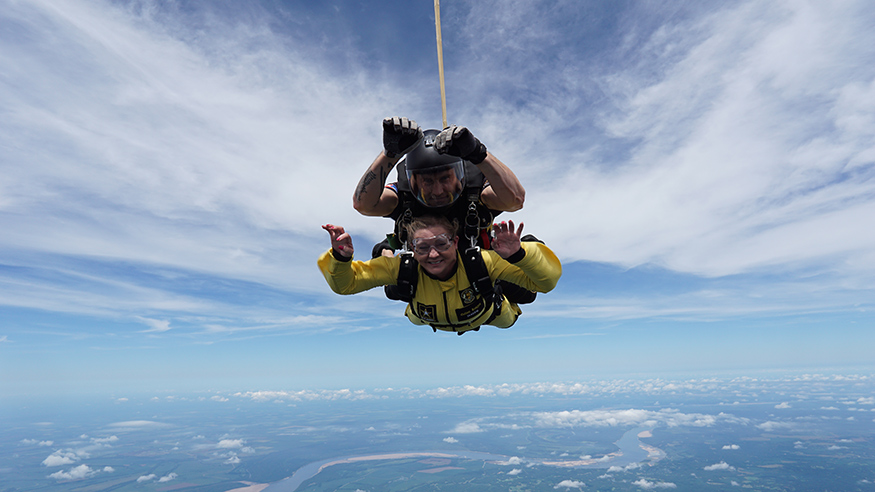 STARKVILLE, Miss.—Mississippi State Director of Admissions and Scholarships Lori Ball is now a more valuable advocate for MSU's Army Reserve Officer Training Corps program after completing a national leadership and team training program that ended with a challenging 13,000-foot tandem skydive jump.
Established to help bridge the civil-military divide, the U.S. Army Cadet Command's 2022 Centers of Influence program provided Ball and other academic influencers the opportunity to become more informed about the nation's Army ROTC and gain first-hand experience. Ball was nominated "for her great influence in students' lives" by MSU's program.
With nearly 67% of lieutenants in the U.S. Army starting their military careers through ROTC, the nation's largest commissioning source has proved incredibly valuable in offering students a way to finance their college education, while gaining military training and earning a high Army rank.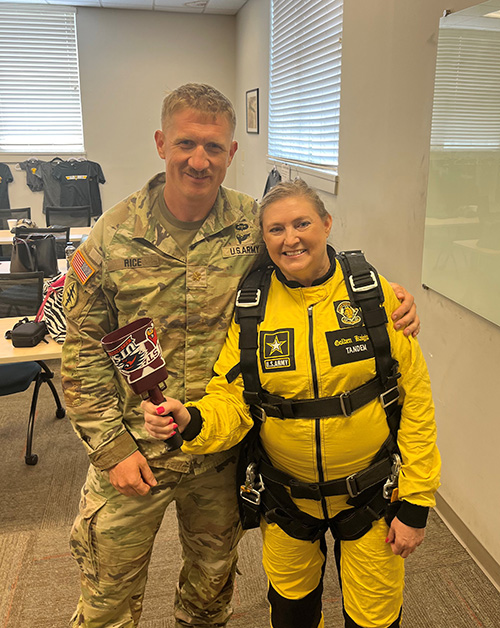 "The MSU Army ROTC nominated Ms. Ball because we see her as a valuable partner to our program, and someone who can help increase awareness both within the university and across the state, as she regularly participates and directs recruitment and outreach. Our nomination was approved, given the obvious benefit to the Army and our program," said MSU Assistant Professor of Military Science Maj. Nathaniel Rice.
Ball first traveled to Fort Knox, Kentucky, to survey the USACC advanced and basic summer camps and also engaged with senior Army leadership and university leaders from across the U.S. Participants were tested on their teamwork and leadership skills on a field course, rappelled off a 62-foot tower, and discussed the experience of ROTC students to get a better understanding of the Army.
For the tandem jump, Ball was escorted by Rice to complete the skydive with the U.S. Army's Golden Knights parachute demonstration team from Millington-Memphis Airport in Memphis, Tennessee.
"Leading up to the jump, everything happens so fast, you really don't have time to think about it. The initial jump is scary. The free fall really did not feel like falling. To me, it felt like I was riding around in a convertible," Ball said. "Once the parachute opened, I really relaxed and enjoyed the views. When we were back on the ground, the adrenaline was still pumping, but I was kind of sad it was over."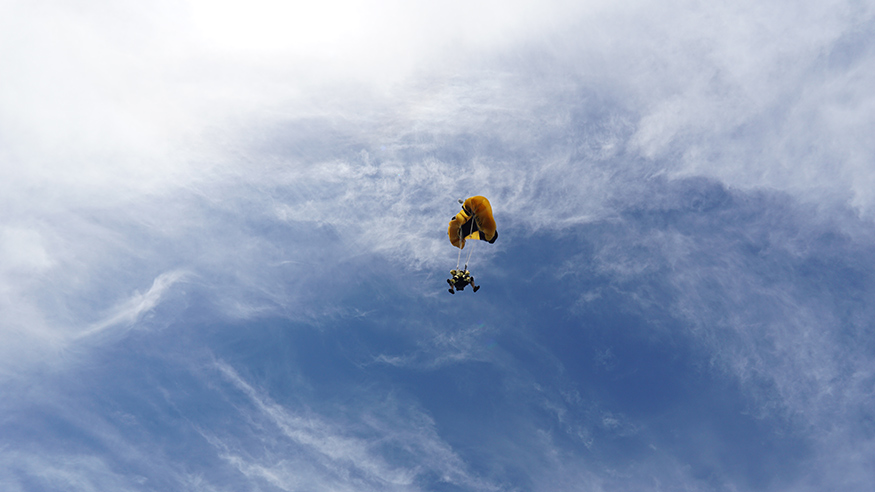 On the visit as a whole, Ball said, "There are so many opportunities available through the Army ROTC that I had never realized before attending the Centers of Influence event. I am so appreciative of MSU's Army ROTC for nominating me."
ROTC was established at MSU as part of the National Defense Act of 1916 and was required for freshman through senior classes. After World War II, ROTC separated into Army and Air Force programs and became voluntary, as it remains today. MSU's Army ROTC alumni have served in Vietnam, Grenada, Panama, Kuwait, Iraq, Afghanistan and Somalia.
Today, Army ROTC provides college educations and military careers in logistics, mechanics, medicine, finance, engineering and law enforcement, with the potential to earn a six- figure income.
To learn more about the MSU Army ROTC program, visit https://www.armyrotc.msstate.edu/.
MSU is Mississippi's leading university, available online at www.msstate.edu.