Contact: Carl Smith
STARKVILLE, Miss.—Since 2020, most consumers across the world have been affected by issues in the global supply chain. From toilet paper shortages to backlogged ports, the pandemic and sociopolitical issues have strained the systems that produce goods, transport them and place them on store shelves.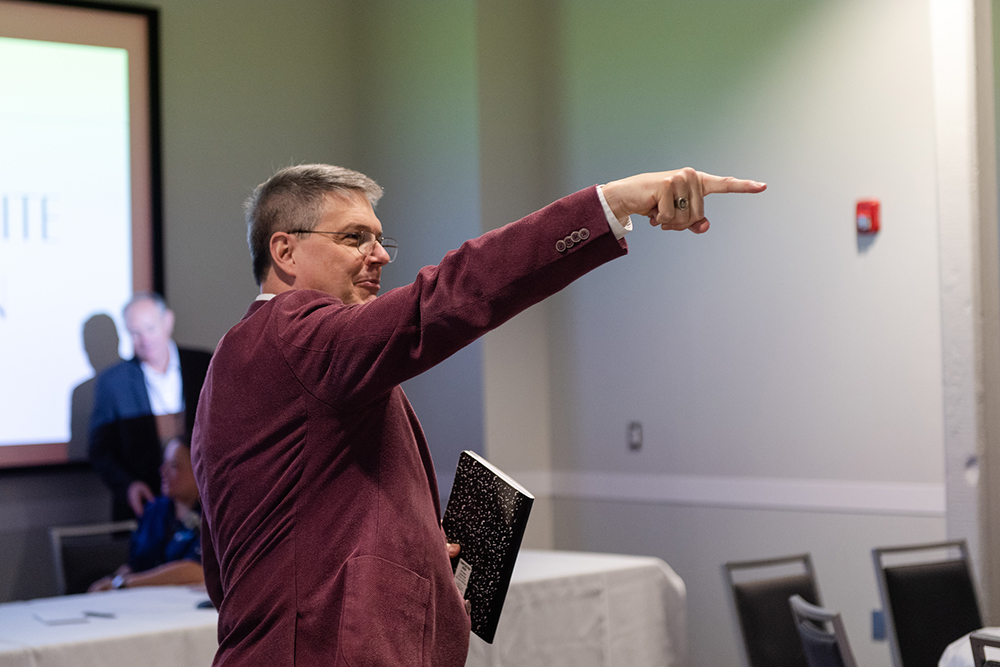 Mississippi State's new Supply Chain Logistics program—the only one of its kind in the state—is preparing students to help solve these issues affecting local, state, regional, national and worldwide economies.
"What people now call supply chain management has existed for a long time. It's always been part of us. You basically cannot have a civilized society without it," said Frank Adams, an MSU Mary Jo and Paul Karre Fellow and associate professor within the MSU College of Business' Department of Marketing, Quantitative Analysis and Business Law. "We have a talent-focused program here that bloomed at the right time when industries were looking for solutions."
Launched in the 2021-22 academic year, the Bachelor of Business Administration in Supply Chain Logistics builds upon foundational classes taught in the MSU College of Business with those specific to logistics, operations, procurement, and transportation of goods and materials throughout global supply chains. Students also must complete an international elective and supply chain-related courses focusing on distribution management, forecasting and predictive analytics; consumer behavior; personal selling; commercial transaction law and other areas.
The new major reflects a decade of growing interest in the field. In 2012, the then-concentration, which was added onto the business school's marketing degree, consisted of two students. Six undergraduates received the major's first degrees in December, followed by 22 this spring and summer. Approximately 78 students are working on their degrees this year, many of whom are pursuing double majors, along with another 36 students, representing the last of the supply chain concentration that preceded the current major. To accommodate this growth the program added faculty, including Chris Boone, an assistant professor of supply chain management; Lu He, an instructor of supply chain management; and Jason Shin, an assistant professor of supply chain management.
Early on, supply chain logistics faculty saw the potential for the concentration to grow into a full degree program, organized internal support and grew interest by linking regional industries and professionals to students and alumni.
"We made it work by being very employer-centric, getting out there and finding out who these people were and letting them know we were here. We understood that if we created student pull, the rest was going to take care of itself," Adams said.
In the early days of the concentration, Adams held roundtable discussions that linked students with a few industry professionals, many of whom were alumni, each semester. As the interest in supply chain logistics grew, so did these networking events. The most recent Maroon and White Supply Chain Day featured 70 students and more than 40 industry professionals, including 10 of the supply chain program's young alumni.
"When people think about the supply chain, they think about being a truck driver or a warehouse worker. There's so much more to it than just that," said Renee Graham, a senior supply chain logistics and marketing double major from Franklin, Tennessee, who serves as president of Maroon and White Supply Chain, the program's student organization. "There are so many things you can do. There's a place for everyone in supply chain logistics; it's not just a one-size-fits-all major."
For more information about MSU's Bachelor of Business Administration in Supply Chain Logistics, visit www.business.msstate.edu/academics/department-marketing-quantitative-analysis-business-law/supply-chain-management-concentration.
MSU's College of Business, organized in 1915, is one of the oldest in the South. Both the college and its Richard C. Adkerson School of Accountancy are accredited by the Association to Advance Collegiate Schools of Business, one of the most prestigious business education groups in the world. For more, visit www.business.msstate.edu.
MSU is Mississippi's leading university, available online at www.msstate.edu.