Contact: Aspen Harris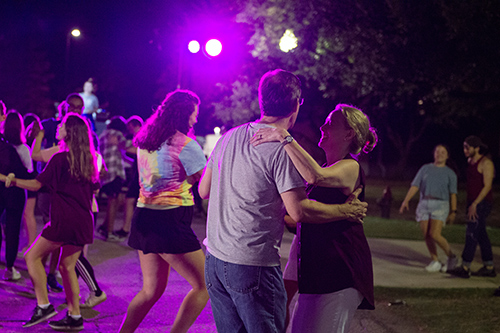 STARKVILLE, Miss.—Mississippi State is observing Hispanic Heritage Month beginning this Thursday [Sept. 15] through Oct. 15 with university groups planning a variety of festive events.
MSU kicks the month off with "Salsa in the Streets," an opportunity for food and dancing, Sept. 15, 7-10 p.m., on the plaza in front of the YMCA Building. The event is hosted by MSU's Division of Access, Diversity and Inclusion, which also will hold a mixer for Hispanic faculty, staff and students in the Butler Guest House, Sept. 29, 5-7 p.m.
The MSU College of Architecture, Art and Design throughout the month hosts the Latin American and Latinx Architecture Exhibition, showcasing images of Latin American cities and modern architecture from the 20th and 21st centuries. In McNeel Gallery at Giles Hall, the show's goal is to open conversations about transnational linkages in the Americas.
The Latino Student Association also hosts two events to celebrate the month. "Fiesta De Colores," a TikTok-inspired color party, is scheduled in Old Main Academic Center 3220, Sept. 22, 5-7 p.m. Participants are encouraged to bring food, snacks or drinks in the color of their choice. Their second event, "A Taste of Latin America," takes place in the Dawg House, Oct. 7, 5-8 p.m., and will highlight several Latin countries and their food and culture.
For more information, contact Holmes Cultural Diversity Center Interim Director Kei Mamiya at kmamiya@adi.msstate.edu.
MSU is Mississippi's leading university, available online at www.msstate.edu.