Contact: Terry Likes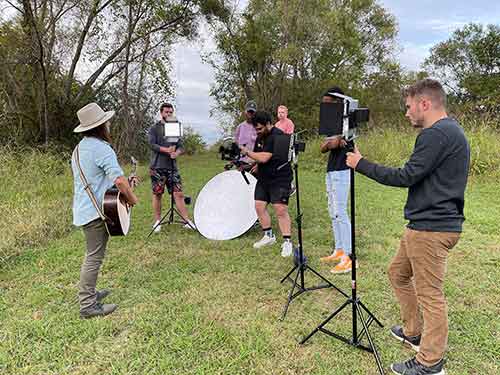 STARKVILLE, Miss.—Several communication students at Mississippi State University are winners of six national awards from the Broadcast Education Association for "exceptional media work," and will be honored for their achievements at the October BEA On-Location conference at Colorado State University.
On-Location provides professional development with a series of hands-on training sessions, and an opportunity to promote academic scholarship through research and creative sessions and competitions.
Two Awards of Excellence in the Audio Competition were awarded to Brody Hamm, a senior from Taylorsville, for two spring "WMSV News Update with Brody Hamm" broadcasts. Also, Anna Nobles, a spring MSU graduate from Sumrall, received an Award of Excellence for her report "Women's Athletics-Title IX celebrates 50 years."
An Award of Excellence in the Film and Video Narrative competition was awarded to Zachary Calhoun, a senior from Kosciusko, for his film "The Squealing."
Awards of Excellence in Film and Music Video were awarded to two student productions from the Creative Services Production class, last year's production "Float," and this fall's production "Girl Again."
"Our students at MSU are beginning to really showcase to the collegiate and professional world how talented they truly are," said Communication Instructor Chris Misun. "The awards they earned from the BEA On-Location competition are a testament to their hard work and dedication to producing high-quality projects that are being recognized nationally. As faculty, we are so proud of the students and we look forward to future successes with these amazing students."
Terry Likes, professor and head of the Department of Communication, said, "The faculty in the Broadcast and Digital Journalism concentration are building a tradition of excellence in News and Media Production. The faculty do an outstanding job, through their intensive coursework, to prepare students to produce compelling content. We also appreciate our on- and off- campus media partners for their continued support."
The BEA is the premier international academic media organization, driving insights, excellence in media production and career advancement for educators, students and professionals. The association's publications, annual convention, Web-based programs and regional district activities provide opportunities for juried production competition and presentation of current scholarly research related to aspects of the electronic media. For more, visit www.beaweb.org.
MSU is Mississippi's leading university, available online at www.msstate.edu.