Contact: Allison Matthews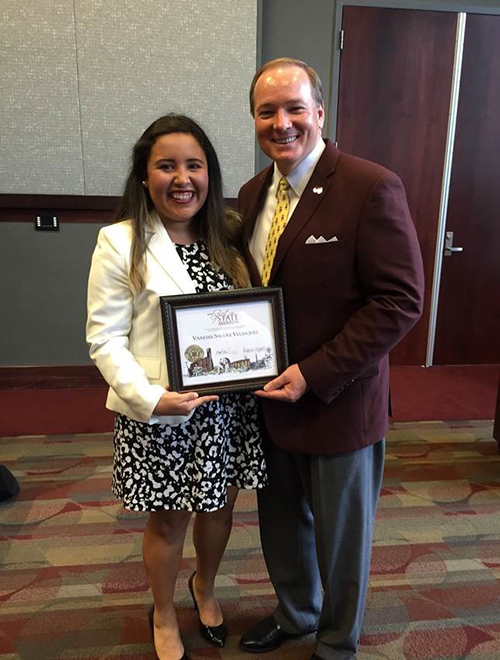 STARKVILLE, Miss.—A Mississippi State cum laude honors graduate is among only 15 selected nationally as a White House Fellow.
The White House recently announced the 2022-23 Class of Fellows, with 2017 MSU alumna Vanessa Velasquez among those chosen for the prestigious honor.
A native of Vero Beach, Florida, Velasquez graduated from MSU's international business program with a Bachelor of Business Administration in marketing from the College of Business, along with a Bachelor of Arts in foreign language from MSU's College of Arts and Sciences. While on campus, she was honored with the university's prestigious Spirit of State award, which recognizes students who make "exceptional personal contributions to university student life."
Velasquez said her time at MSU helped her discover her leadership style, and she took full advantage of opportunities to get involved with student organizations, from being a Roadrunner student recruiter to serving on the Fashion Board and Student Association.
"The university culture allowed me to fully immerse myself in education, but also have ownership on campus to make a change and become a leader. MSU is unique because it's people-focused, and when you mix that with hospitality you get servant leadership," Velasquez said. "Everyone was always willing to help one another and serve for the greater good of the university. That in itself has allowed me to grow exponentially in my career because leadership is how you inspire others."
Since her time as an MSU student, Velasquez has gained extensive project management experience, including work at Apple Inc. as a global supply manager. She also worked at Amazon.com Inc., where she started running operations at a fulfillment center and was promoted to corporate headquarters to focus on the company's engagement with Hispanic businesses. Her portfolios generated more than $20 million in revenue, as she led projects valued at over $100 million. She also was the inaugural director of the fulfillment center and community engagement for Amazon's LGBTQ+ employee resource group, Glamazon. Additionally, Velasquez mentors Hispanic Scholarship Fund scholars and is dedicated to helping underserved communities.
She said her first job after graduation "was extremely challenging because I was young and managing people twice my age. However, because of how involved I was on MSU's campus, I was able to succeed," Velasquez said, explaining that she gained respect by learning from her team and standing up for them. "At MSU, you really learn to listen, be humble, and that nothing is out of your reach."
The White House Fellows program dates back to 1964, when it was founded to offer exceptional young leaders first-hand experience at the highest levels of the federal government. Velasquez is being placed at the U.S. Navy. She and other Fellows will "spend a year working with senior White House Staff, Cabinet Secretaries, and other top-ranking Administration officials, and leave the Administration equipped to serve as better leaders in their communities," according to the White House announcement. The fellowships are awarded on a non-partisan basis.
For more information, visit https://www.whitehouse.gov/get-involved/fellows/.
MSU is Mississippi's leading university, available online at www.msstate.edu.