Contact: Sarah Nicholas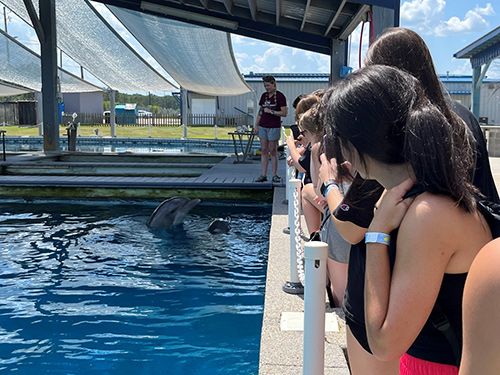 STARKVILLE, Miss.—More than two dozen students from around the country in this summer's Research Experience for Undergraduates program at Mississippi State visited the Gulf Coast to learn about the intersections of food, energy and water security as part of ongoing research into the habitat of marine life.
Made possible by a National Science Foundation grant, the university's REU programs are designed to support underrepresented students in STEM. Participants typically come to host institutions from schools that do not provide summer research opportunities which at MSU include hands-on, experiential learning time with faculty and other experts.
MSU's Department of Chemistry directed one of the three REUs, along with MSU's High Performance Computing Collaboratory and the chemical engineering department. Overall, 29 students from 25 institutions participated this year.
"REU programs are intensive research experiences that allow students to develop skills and training that support careers in the sciences. These programs are a good way for students to explore research and see if they enjoy it," said Deb Mlsna, associate professor of chemistry and leader of the INFEWS: Innovations at the Nexus of Food, Energy and Water Security REU. 
"The Institute for Marine Mammal Studies was releasing rehabilitated Kemp's ridley sea turtles back into the Gulf," Mlsna said, noting a trip highlight was a behind-the-scenes tour of the facility to see wildlife.
"Our collaborator there, Dr. Debra Moore, invited us to participate with the sea turtle release. One of the research projects our undergraduate students have worked on is the analysis of microplastics in marine mammal insides. The work is trying to understand what role microplastics might be playing in killing the mammals."
Click here to read more about the sea turtle release.  
REU student participants receive a $5,000 stipend and are housed in MSU residence halls. All participants have the opportunity to present their research this fall though the Judy and Bobby Shackouls Honors College Research Symposium.
MSU is Mississippi's leading university, also available online at www.msstate.edu.