Contact: Aspen Harris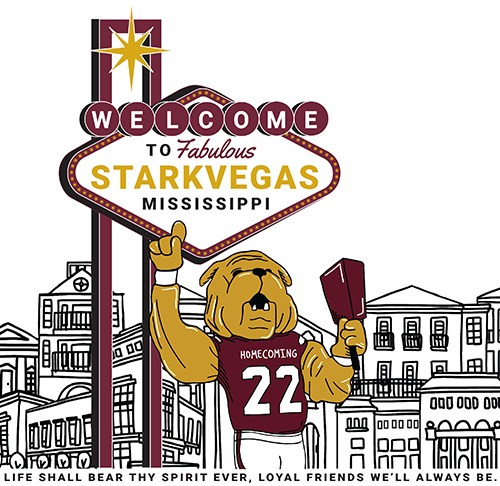 STARKVILLE, Miss.—Mississippi State's Student Association is kicking off multiple events celebrating this year's Homecoming Week, Oct. 3-8.
The chosen theme for this year is "Fondest Memories Cling to Thee: Starkvegas Edition," inspired by the MSU alma mater and meant to shine a light on university traditions and finding joy in what makes "Starkvegas" home.
Homecoming Week 2022 events include:
—Sunday [Oct. 2] 11:30 a.m.-1 p.m. Homecoming Chapel Service, MSU Chapel of Memories. Open to all students, this service will feature Vice President for Student Affairs Regina Young Hyatt and the Black Voices gospel choir.
—Monday [Oct. 3] 9-11 a.m. Breakfast with Belle, YMCA Plaza. This event offers a chance to meet the Homecoming Court, take pictures with Belle the mascot, and get free Chick-fil-A breakfast while supplies last.
—Monday [Oct. 3] 12-2 p.m. Dunking Royalty, Drill Field. Come out to the Drill Field to help raise money for Bully's Pantry, which strives to address food insecurities on campus. Pay $2 for a chance to dunk the Homecoming King or Queen and members of the Student Association executive board.
—Tuesday [Oct. 4] 11 a.m.-1 p.m. T-Shirt Swap, Drill Field. Bring a lightly used T-shirt and exchange it for a 2022 Homecoming shirt, while supplies last. Used shirts will be donated to Starkville Habitat for Humanity ReStore.
—Tuesday [Oct. 4] 7-9 p.m. Homecoming Movie Night, featuring "Now You See Me," Drill Field.
—Wednesday [Oct. 5] 7-9:30 p.m. Party in Starkvegas Silent Headphone Rave, Amphitheater.
—Thursday [Oct. 6] 7-9 p.m. Glow with the Flow Cosmic Golf, Old Main Academic Center Plaza. A glow-in-the-dark golf course in front of Old Main will offer a fun night of golf and food trucks, vendors and pop-up shops around the course area.
—Friday [Oct. 7] 7 p.m. NPHC Step Show, Newell-Grissom Building. Chapters of the National Pan-Hellenic Council will give a public display of steps and techniques. Tickets for this event can be purchased for $10 at https://msstate.universitytickets.com/w/event.aspx?id=1520.
—Saturday [Oct. 8] 11 a.m., Homecoming football game, MSU vs. Arkansas, Davis-Wade Stadium. For more, visit https://hailstate.com/feature/gameday.
Additionally, all departments, student organizations, fraternity and sorority chapters, and residence hall councils are encouraged to compete in Homecoming door decorating, house and lawn displays and banner competitions. All door, house and lawn decorations and displays must be complete on Oct. 4 by noon, and judging takes place that day from noon-4 p.m.
The banner competition is open to all student organizations, and blank banners provided by the Homecoming committee are now available for pickup through Sept. 30 in the Office of Fraternity and Sorority Life, Suite 300 in Colvard Student Union. Banners must be completed by Oct. 3 at 5 p.m. and dropped off in the Office of Fraternity and Sorority Life.
To sign up for a competition, visit https://msstate.campuslabs.com/engage/submitter/form/collectsubmitteridentity/cd276443-2727-432b-9ceb-7db781c7562a.
All competition winners will be announced at the Homecoming football game, with the winning group in each category receiving a pizza party or a $500 credit to Event Services/Union Operations.
For more on 2022 Homecoming Week activities, follow the MSU Student Association on Facebook @MSUStudentAssociation, Twitter and Instagram @MSU_SA, or visit www.cowbellconnect.msstate.edu.
MSU is Mississippi's leading university, available online at www.msstate.edu.