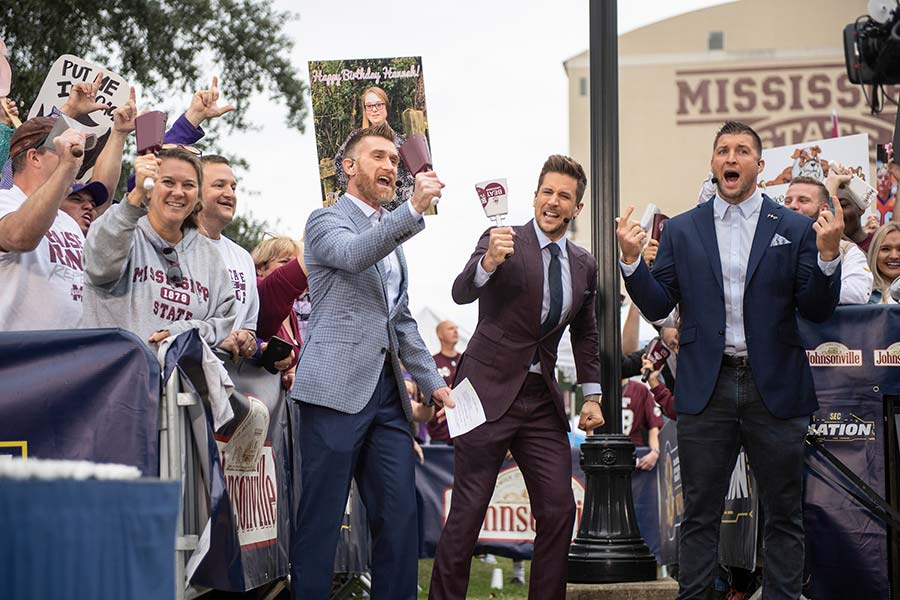 Contact: Harriet Laird
STARKVILLE, Miss.—With an entrance into the AP Top 25 this past weekend, Mississippi State fans are primed for Homecoming this week and the No. 20 Arkansas Razorbacks on Saturday [Oct. 8], while also welcoming "SEC Nation."
With an 11 a.m. kickoff for the football matchup on SEC Network, Bulldog fans and campus visitors are urged to be mindful of gameday policies, as well as road closures and changes relating to the game and "SEC Nation," airing live from the Junction at 9 a.m. The live football morning show features host Laura Rutledge, Paul Finebaum, Roman Harper, Jordan Rodgers and Tim Tebow. 
Fans also are encouraged to be in the Junction Saturday at 8 a.m. for SEC Network's Marty Smith and Ryan McGee on the live "Marty & McGee" show and "The Paul Finebaum Show" live on Friday [Oct. 7] at 2 p.m.
In anticipation of "SEC Nation's" production requirements, MSU will open the gate on Bully Boulevard—north of Cresswell Hall—and the gate on Creelman Street—north of McCarthy Gym—Thursday [Oct. 6] at 7 a.m. to provide vehicular access to the Bell Island area when Creelman closes in front of Dorman Hall for stage setup. 
At the same time, the entrance of the McCarthy Gym and Allen West lot will be staffed to only allow gated permit holders. To protect the rest of the gated campus core, there will be a controlled roadblock east of the President's Circle and Bully Boulevard intersection, allowing only those with gated access further into the core. These areas will be manned from 7 a.m.-3 p.m. Thursday and Friday. 
All other gates—Lloyd Ricks, Magruder, Hardy, T.K. Martin, Morrill and Lee—will continue normal operation, but will be raised Thursday and Friday afternoon at 3 p.m. to help alleviate congestion.
Anyone needing to access Bell Island can do so via Stone Boulevard, Bully Boulevard, President's Circle and Tracey Drive. 
Weds., Oct. 5
–Tractors/trailers will be staged in the SEC Nation set area on Creelman Street after 9 p.m.
Thursday, Oct. 6
–Students should use caution changing classes in this area Thursday and Friday.
–The university is working to make sure no public tailgating areas are impacted by the additional space requirements for SEC Network guests.
Friday, Oct. 7
–The Junction opens at 4 p.m., but patrons will not have access to portions of Creelman Street for unloading tailgating equipment. Please be mindful of the influx on Stone Boulevard as traffic leaves campus at the end of the day and as traffic arrives to drop off tailgating tents.
–B.S. Hood Drive closes at 2 p.m.
Saturday, Oct. 8
–Patrons will not have access to portions of Creelman Street for unloading tailgating equipment.
–Shuttle service begins at 7 a.m.
–Stone Boulevard closes and Fan Zone opens at 8 a.m.
–Stadium gates open at 8:45 a.m.
–Dawg Walk at 8:55 a.m.
For a complete gameday guide, visit www.hailstate.com/gameday.
MSU is Mississippi's leading university, available online at www.msstate.edu.