Contact: James Carskadon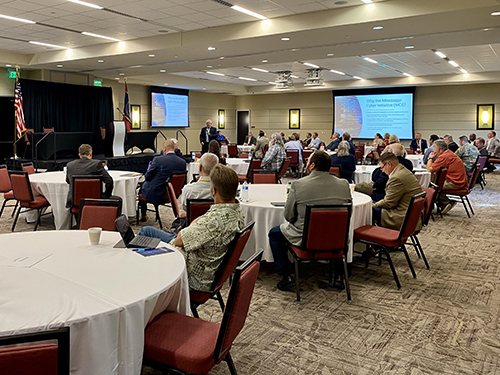 GULFPORT, Miss.—The Mississippi Cyber Initiative is marking major milestones and expanding its network of collaborators as the Mississippi State University-led initiative grows in its second year.
The Mississippi Cyber Initiative hosted Industry Day last week, inviting private sector companies to get involved in the statewide effort that has already led to several fruitful public sector partnerships. The event was held at Mississippi Gulf Coast Community College's Harrison County Campus.
"We have had a lot of success in the early stages of this initiative," said Jim Martin, MSU associate vice president for corporate engagement and economic development and Mississippi Cyber Initiative lead. "There is so much positive economic activity happening on the Gulf Coast, and if we can help grow advanced technology and cyber industries in this region, there is no reason the Interstate 10 corridor can't be the next Huntsville."
The Mississippi Cyber Initiative, established in 2021, is a statewide effort to broaden the state's capabilities and coordination in cybersecurity, a field that will play a key role in Mississippi's economy for decades to come. The initiative grew out of MSU's support for cyber activities at Keesler Air Force Base in Biloxi, a major training hub for the U.S. Air Force. MCI is leveraging collective expertise among academia, the private sector, federal and local government, law enforcement, the U.S. Department of Defense and the Mississippi National Guard.
Utilizing an initial state investment of $3.5 million, the project has worked to build collaborations, assess stakeholder needs and develop the Mississippi Cyber Center, a renovated building at MGCCC's Harrison County Campus that currently serves as the initiative's headquarters. The building contains a Digital Forensics Lab that is assisting 15 law enforcement agencies as they carry out investigations with a digital device component. The lab was established after identifying unmet demand from the Mississippi Bureau of Investigation for forensics investigation support and equipment. The building's Systems Operations Lab houses a new training platform that supports Keesler's network administrator training and MGCCC workforce development programs. MCI is also in the final stages of developing a cyber ecosystem that can be utilized by partners for a wide range of cyber exercises, events and training activities. MSU has hired three personnel that are housed at the Mississippi Cyber Center to help coordinate MCI activities.
MCI programming has included quarterly cyber summits, K-12 outreach activities, and a gathering of cybersecurity faculty from across the state. In July, MSU and MGCCC partnered to host the National Centers of Academic Excellence in Cybersecurity Executive Leadership Forum, bringing hundreds of representatives from the country's top cybersecurity academic programs to the Gulf Coast.
Last week's Industry Day event included remarks from Mississippi Public Safety Commissioner Sean Tindell, Biloxi Mayor Andrew "FoFo" Gilich, and representatives from the Mississippi National Guard, Keesler Air Force Base, the Mississippi Attorney General's Office, the U.S. Cybersecurity and Infrastructure Agency, Martin Federal, Huntington Ingalls, Hancock Whitney and the Mississippi Small Business Development Center, among others. Common themes included the need to grow Mississippi's cyber and advanced technology workforce, as well as the importance of collaboration to strengthen cyber resilience in an increasingly connected world.
The long-term plan is to continue to expand capabilities at the MGCCC facility and build a larger facility on the Gulf Coast to serve as MCI headquarters, with complimentary capabilities spread across the state. The Mississippi Cyber and Technology Center will serve as the hub for a robust network of statewide partners, offering a coordination site for cyber training and threat mitigation efforts, as well as space for collaboration with private sector companies.
During the event, Gilich, a former technology entrepreneur, expressed his support for the initiative and its potential to make a substantial impact on Biloxi and the Gulf Coast region.
"We can lead the country in what we're doing," Gilich said. "It really is terrific to see this come together."
For more on the Mississippi Cyber Initiative, follow the organization on Twitter @MS_Cyber_Init and on LinkedIN at Mississippi Cyber Initiative.