Contact: Aspen Harris
STARKVILLE, Miss.—Mississippi State students and staff members representing various colleges, departments and professional units took home numerous awards from recent College Public Relations Association of Mississippi and Southern Public Relations Federation annual competitions.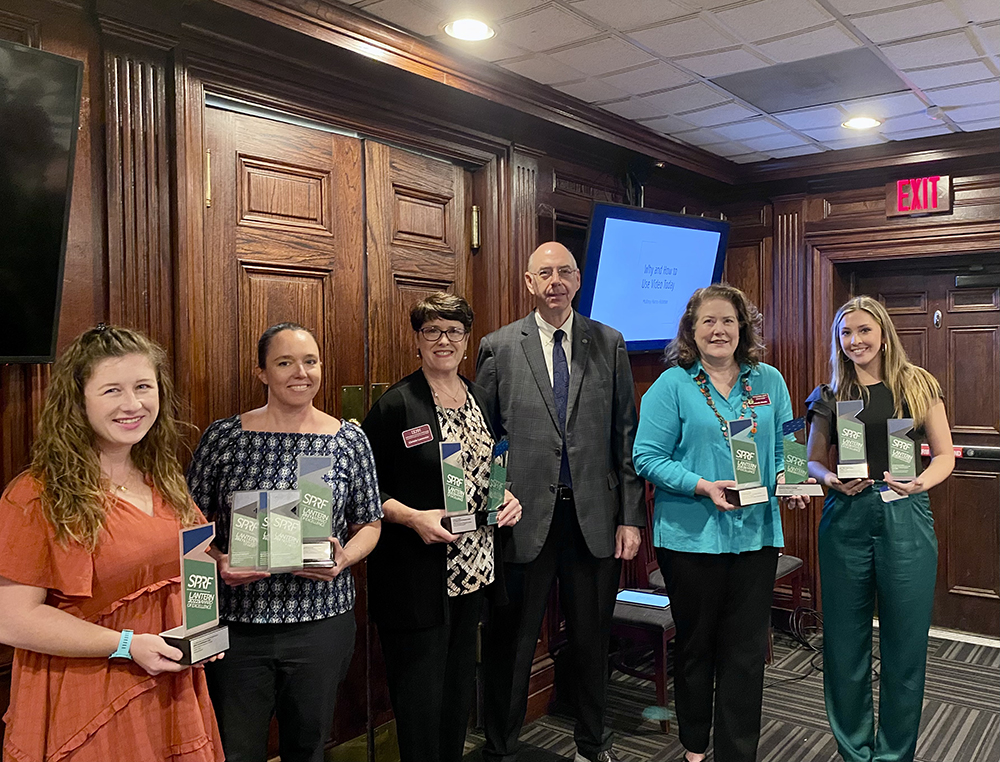 SPRF, a network of public relations professionals from Alabama, North Florida, Louisiana and Mississippi, held this year's Lantern Awards ceremony and conference "Nouveau PR" in Baton Rouge, Louisiana. Awards were given at the levels of "best of," tier one, tier two and tier three in several areas, along with student awards.
A SPRF Tier 2 Award of Excellence for the Short Term/Potpourri category was awarded to graduate student Sarah Colvert of Huntsville, Alabama, and recent MSU graduates Bryanna Trulove of Tupelo and Sophia Calderon of Meridian, all of the MSU Public Relations and Integrated Student Media Agency and MSU Department of Communication, for "MSU Office of the Provost, 'Cowbell Core.'"
The SPRF Student Award of Excellence for Student Campaigns was awarded to recent MSU graduates Elly Lamb of Jackson and Savannah Munn of Starkville, both alumni of PRISM and the Department of Communication, for their work for the Starkville Area Arts Council, "Curating an Online Presence." 
SPRF Tier 3 winners include:
Tactical Materials/Advertising and Publications Lantern Award—"Extension Matters" magazine redesign, Office of Agricultural Communications content development team.
Tactical Materials/Audio and Video Award of Excellence—"MSU 2021 National Commercial," Office of Public Affairs
Tactical Materials/Writing Award of Excellence—"Finding Perspective," Extension Matters magazine by Leah Barbour, OAC marketing and communications coordinator; Cynthia Barron, OAC web communications designer; Kevin Hudson, OAC photographer; and Ellen Graves, OAC social media strategist.
CPRAM, a consortium of public relations professionals employed at Mississippi's public and private colleges and universities, returned to an in-person conference this year in Gulfport. Awards were given at the levels of grand, first, second and third place in junior and senior divisions in numerous categories.
The Summer 2022 and 16th issue of MAFES Discovers, collectively produced by MSU staff as part of MSU's ANRM, received the CPRAM Grand Award in the senior division's print media category. Also taking home a first-place award in the institutional magazine category, the publication was created by David Ammon, FWRC graphic designer; Megan Bean, OPA photographer; Vanessa Beeson, FWRC publications editor; Dominque Belcher, MAFES graphic designer; Karen Brasher, FWRC manager of communications; Stephen Caples, FWRC web designer; Kathleen Forman, Agricultural Education, Leadership and Communications major; David Garraway, UTC director and OPA associate director; Meg Henderson, FWRC writer; Kevin Hudson; Grace Jones, FWRC intermittent worker; Scott Langlois, Coastal Research and Extension Center senior research associate; Kenner Patton, Delta Research and Extension Center building services manager; Reagan Poston, ANRM student writer; Taylor Vollin, Agriculture Education, Leadership and Communication graduate; and Beth Wynn, OPA photographer.
MSU swept the competition in the CPRAM senior division's news story, institutional magazine, photograph, television spots and television programs categories.
These first-place honors include:
News Story—"MSU Deer Study Finds Some Are Travelers, Others Homebodies," Grace Jones
Photograph—"Rocky's Goat," Michaela Parker, OAC marketing and communications coordinator
Television Spots—"Entrepreneurship Fast Track," Checky Herrington, OPA brand manager
Television Programs—"Isolated on the Farm," James Parker, UTC senior producer; David Garraway; and Hal Teasler, UTC creative manager
News Media—"C Spire Conerly Trophy Livestream," David Garraway; Neil Price, MSU Athletics director of broadcasting and voice of the Bulldogs; Don Warren, UTC senior producer; Hal Teasler; and Mike Godwin, UTC operations and engineering manager
CPRAM second-place winners include:
News Story—"MSU's Barickman at Head of Increasing Lettuce Yields for Flora Company," Taylor Vollin
Feature Story—"Keeping it in the Family," Meg Henderson
Institutional Magazine—"Extension Matters" Magazine, Leah Barbour; Elizabeth Gregory North, OAC department head; Cynthia Barron; Susan Collins-Smith, OAC extension associate II; Kevin Hudson; Nathan Gregory, OAC news writer; and Keryn Page, OAC publications manager
Single Piece of Artwork – Non-Sports—"Coastal and Marine Extension Log Program," Phillip Smith, OAC extension associate III
Photograph—"Farm to Table," David Ammon, Karen Brasher, Vanessa Beeson, Dominque Belcher
Television Spots—"Trusted Voices: 4-H Covid Vaccine Promotion," Elizabeth Gregory North, Brian Utley, OAC senior extension associate, and Jonathan Parrish, OAC extension associate I
Television Programs—"The Hungriest State," James Parker, David Garraway and Hal Teasler
Social Media—"National Championship Social Media," Eric Abbott, Office of the Graduate School assistant director; Grace Cockrell, OPA photographer; Harriet Laird, OPA senior associate director; Heather Rowe, OPA publication and digital design editor; Bethany Shipp, OPA marketing and communications coordinator; and Hal Teasler
CPRAM third-place honors include:
News Story—"As Learning Gardens Bloom, Ribbon-cutting Ceremonies Celebrate Community Collaboration in Jackson, Leland," Vanessa Beeson
Institutional Magazine—"Mississippi State University Alumnus Magazine," MSU OPA, MSU Alumni Association and MSU Foundation
Special Publications—"CALS Influence," David Ammon; Megan Bean; Vanessa Beeson; Dominque Belcher; Karen Brasher; James Carskadon, OPA research editor; Chao Photography; Georgia Tech Athletics; Abbie Kate Hancock, Communication graduate; Meg Henderson; Ashleigh Lee, former student; Reagan Poston; Sid Salter, MSU chief communications officer and OPA director; Georgia Sisson, Communication graduate; Taylor Vollin; and Beth Wynn
Television Programs—"XIII," James Parker, David Garraway and Hal Teasler
Learn more about the Office of Agricultural Communications at www.extension.msstate.edu/agricultural-communications; Office of Public Affairs at www.opa.msstate.edu; and University Television Center at www.utc.msstate.edu.
The Department of Communication is online at www.comm.msstate.edu.
MSU is Mississippi's leading university, available online at www.msstate.edu.