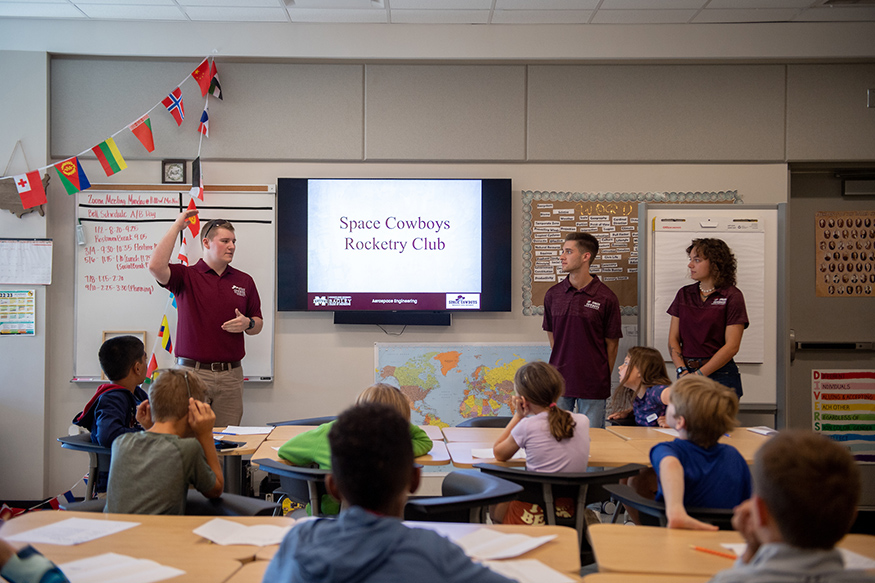 Contact: James Carskadon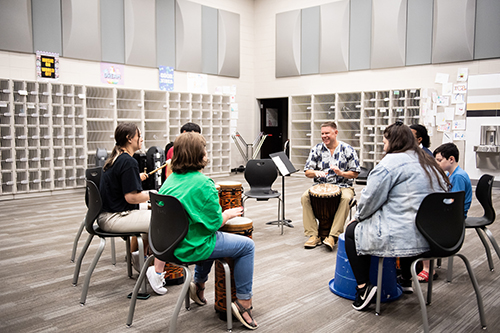 STARKVILLE, Miss.—Over the course of just a few hours at Partnership Middle School at Mississippi State University, students last week were building paper rockets, watching a fire truck ladder climb high in the sky, petting a lamb, learning new drum styles, playing math games and more.
The activities were all part of the Starkville-Oktibbeha Consolidated School District's first intersession enrichment camps. Mississippi State personnel from a wide range of academic backgrounds supported the camps by providing lessons, demonstrations, tours and other activities.
"At the state level and at the local level, there has been a lot of interest in modified school calendars like the one SOSD has adopted because of the potential to improve learning outcomes," said MSU Vice President for Research and Economic Development Julie Jordan. "I am very proud of the way the university and community partners have come together to enhance the learning opportunities that are available to students during the intersession period. This kind of partnership can serve as an example for communities across the state as they consider new approaches to the school calendar."
As part of the district's new modified calendar, two-week intersessions—or short periods between terms—now take place in the fall and spring, giving students a chance to catch up on key skills or enjoy a deeper dive into topics of interest through enrichment camps. The accelerated learning portion of intersession gives students a chance to receive targeted instruction midway through the semester, allowing them to catch up in areas where they may be struggling. In the enrichment camps, potential topics for SOSD students to choose from included animals, art, aviation, athletics, STEAM (Science, Technology, Engineering, Arts and Math), and music, among others. For the school district, the intersession time is dedicated to helping students thrive as they pursue their passion, purpose and potential.
"From flight to chemical reactions, partnering with Mississippi State University really allowed us to create hands-on, engaging learning experiences for our students based on their interests," said Lexi Taylor, SOSD intersession coordinator. 
The MSU support for SOSD's intersession camps are an extension of the longstanding partnerships between the university and school district, which include Partnership Middle School, a 128,000-square-foot facility on the university campus that serves all sixth and seventh graders in the district. The school also serves as a demonstration site for future educators enrolled in the MSU College of Education. Since the school opened in 2020, several new collaborations have emerged, including MSU gallery displays in the school, student tours of campus and field trips to university sites, the development of an educational garden and the installation of an interactive weather station, among others.
During the intersession enrichment camps, students were able to tour facilities such as the MSU College of Veterinary Medicine, the new music building, Raspet Flight Research Laboratory, the Dunn-Seiler Museum, Dudy Noble Field, and the Cullis Wade Depot Art Gallery and Cullis and Gladys Wade Clock Museum. MSU students, faculty and staff held in-school demonstrations for SOSD students related to music, chemistry, aviation, engineering, math, veterinary medicine and virtual reality. Also during intersession, MSU hosted a special Lyceum Series event at Lee Hall for SOSD students and their families, featuring a performance from The Silhouettes. a shadow-dance company that was first runner-up on the TV show "America's Got Talent."
Christina Reynolds serves as the MSU director of Partnership Middle School and educational liaison, helping to coordinate collaborations between the district and university. She said the collaboration around intersession enrichment camps is a natural continuation of the efforts underway to benefit the students.
"The best part of all this activity is seeing the students learning and having fun," Reynolds said. "Intersession provides a great chance to create experiences and learning opportunities that might be difficult to work into the calendar otherwise, so we have been able to make the most of this time. I truly appreciate everyone at MSU that gave some of their time to provide educational experiences for the kids. It makes a great impact."
For more on Partnership Middle School and MSU and SOSD's collaborations, visit www.partnership.msstate.edu.
MSU is Mississippi's leading university, available online at www.msstate.edu.