Contact: Harriet Laird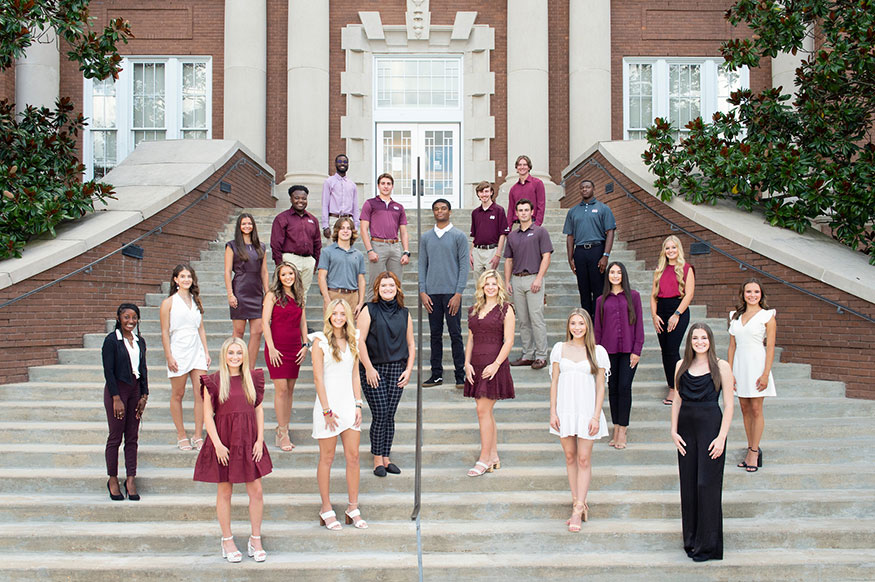 STARKVILLE, Miss.—As Mississippi State continues to create and grow pathways for student success, financial support is often an essential link to the graduation finish line.
The Jackson-based Luckyday Foundation is making that vital connection for 24 MSU  freshmen this fall through their participation in the Luckyday Scholars Program.
These scholars are the third group and largest cohort to date to experience the benefits the program has brought to MSU since its campus establishment in 2020. A total of 40 scholars are currently enrolled, and the Luckyday Foundation's partnership with the university will continue to increase the total number of scholars to 95 in fall 2023, 160 in 2024 and 230 in 2025.
"Our Luckyday scholars stand as wonderful examples of the incredible potential our students possess. They are poised to make a difference with all that they experience as part of this innovative program," MSU President Mark E. Keenum said. "I am grateful for our partnership with the Luckyday Foundation and their support of these students as they learn and grow into the servant leaders our communities will need in the years to come."
Established by the late Frank R. Day of Jackson, the Luckyday Foundation provides scholarship funding of $6,000 per year for a total of $24,000 over four years to each student selected for the program. Luckyday scholars are exemplary students with the goal of becoming MSU graduates who possess invaluable leadership skills, a strong work ethic and a commitment to community stewardship. Applicants must have a minimum 3.0 high school GPA and participate in an intensive interview process and a holistic application review.
Throughout their MSU experience, Luckyday  scholars are introduced to servant leadership and the responsibilities of leaders who choose to put the needs of others first. A commitment of 10 service hours each semester with one agency is required, helping build the scholars' knowledge of the program's core values of scholarship, community, service and leadership.
"The Luckyday Foundation is grateful for the exceptional support of Mississippi State University in meeting the Foundation's mission of creating a community of scholars who aspire to servant leadership," said Jamie Houston, Chairman of the Luckyday Foundation. "The resources and opportunities that are provided to these scholars will allow them to grow and thrive as engaged students and citizens now and in the future."
This fall's Luckyday Scholars Program participants and their majors are:
BAY SPRINGS – August Jones, biomedical engineering
BELZONI – Ashantis Wigley, civil engineering
BRANDON – Madilyn Hemphill, biomedical engineering; Hali Hollman, management; and Hallie Young, biological sciences with a pre-dental concentration
BYRAM – Nathan Cooke, biomedical engineering
COLLINSVILLE – Avery Jones, civil engineering with an environmental engineering concentration
COLUMBUS – Sophia Singley, educational psychology
ELLISVILLE – Emily Rivers, interior design
GREENVILLE – Rosemary Chow, kinesiology with a performance fitness concentration
HATTIESBURG – Luke Wiest, business economics
HOLLANDALE – Jeremy Tyler, business administration
LOUISVILLE – Alice Ann Haab, communication with a public relations concentration
MADISON – Avery James, kinesiology with a sports administration concentration; and Jakobi Walton, architecture
McCOMB – Sean Artigues, business economics
MYRTLE – Christopher Shaffer, accounting; and Josie Baird, biomedical engineering
NOXAPATER – Aaron Lampley, computer science
OXFORD – Molly Tannehill, communication with a broadcast and digital journalism concentration
PEARL – Makedra McCoy, undeclared with an architecture concentration
RIDGELAND – Josephine Smith, human development and family science with a child life concentration
TUPELO – Christopher Hussey, mechanical engineering
VICKSBURG – Kristofer Cook, business administration
For more information about the Mississippi State University Luckyday Scholars Program, visit www.luckyday.msstate.edu.