Contact: Aspen Harris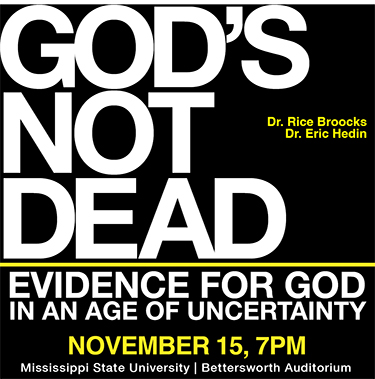 STARKVILLE, Miss.—A Mississippi State alumnus and best-selling author of the 2013 book-turned-movie series "God's Not Dead" is holding a presentation and Q&A session Nov. 15 on campus about evidence for the existence of God and intelligent design from science, philosophy and history.
Author Rice Broocks, along with Eric Hedin, are the featured speakers for "God's Not Dead: Evidence for God in an age of Uncertainty" at 7 p.m. in Bettersworth Auditorium at Lee Hall. Sponsored by the MSU Christian Faculty-Staff Forum, the 90-minute program is free and open to all. Advance registration is available at https://www.eventbrite.com/e/gods-not-dead-at-mississippi-state-university-tickets-431845971927.
The program "aims to bring clear, current and rational evidence in the discussion surrounding faith and science to students in a respectful and engaging format."
Broocks, who has spoken at universities and colleges in more than 40 countries, holds a Bachelor of Business Administration degree from MSU, a master's degree from Reformed Theological Seminary in Jackson, as well as a doctorate from California's Fuller Theological Seminary. He is co-founder of the Every Nation family of churches and ministries and the senior minister of Bethel World Outreach Church in Nashville, Tennessee.
Hedin is chair of the Department of Chemistry, Physics and Engineering and professor of physics and astronomy at California's Biola University. He holds a doctorate in physics from the University of Washington and has taught physics and astronomy at private and public universities. His "passion in teaching explores the topics of physics and astronomy in a way that highlights the harmony and design of nature," according to his Biola University profile.
For more on "God's Not Dead" material, visit www.godsnotdeadbook.org.
MSU is Mississippi's leading university, available online at www.msstate.edu.