Contact: Aspen Harris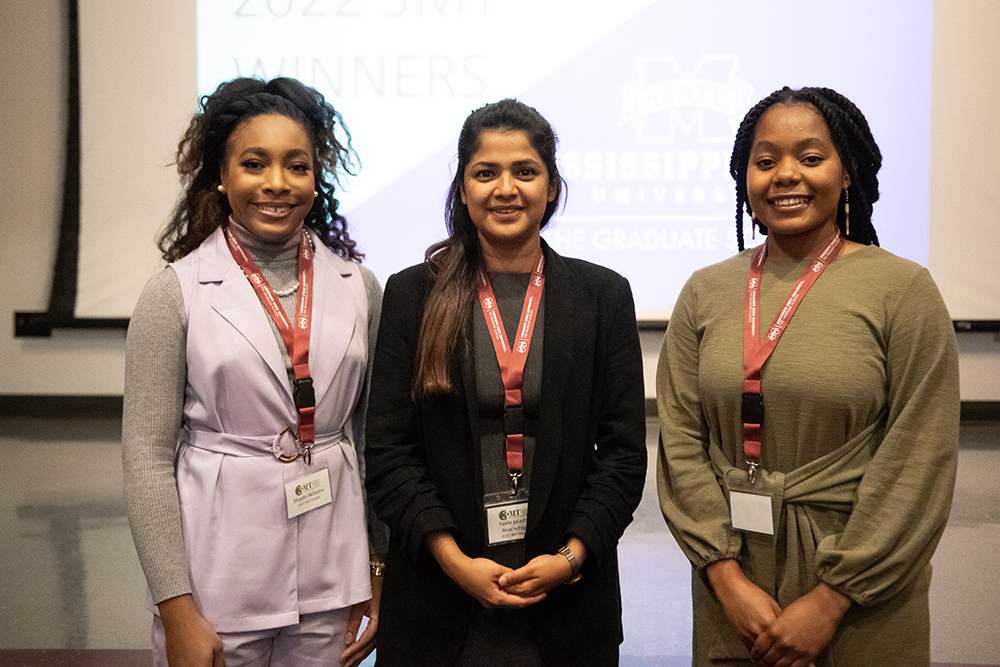 STARKVILLE, Miss.—Mississippi State's Graduate School is awarding eight students for superb research presentations during the university's 10th annual Three Minute Thesis competition.
The recent 3MT event challenged graduate students to present their thesis/dissertation topics in three minutes or less. Student presentations were judged by a panel of academic and non-academic professionals with a wide range of expertise.
The judges chose Sakie Jaladha Arachchige of Sri Lanka, a mathematics and statistics doctoral student in MSU's College of Arts and Sciences, as the new 3MT Grand Champion for her presentation "Risk prediction of Primary Ovarian Insufficiency by an early age among female childhood cancer survivors." Along with a $750 prize, Arachchige will represent MSU at the Regional 3MT competition at the Conference of Southern Graduate Schools in Tampa, Florida in March 2023.
Namia K. Stevenson of Tullahoma, Tennessee, a wildlife, fisheries and aquaculture master's student in MSU's College of Forest Resources, received the Grand Champion Runner-Up prize of $500 for her presentation "Saving One Amphibian at a Time: Optimizing the Transferability of ART protocols in Anurans."
The audience voted Shaylin Williams of Natchez, an engineering education doctoral student, for the $300 People's Choice Award for her presentation "Constructing Knowledge on Student Motivation and Aspirations in Engineering Education Programs."
The other finalists receiving $200 awards for their presentations are:
—Casey Iwamoto of Seattle, Washington, a forestry doctoral student, "Sustainable Pathways for Shortleaf Pine in Uncertain Climates."
—Amanda Mayo of Lawrenceville, Georgia, a geosciences master's student, "Effectiveness of Omeka Virtual Platforms for Engaging Dunn-Seiler Museum Audiences."
—Luke Tucker of Tupelo, an agricultural and biological engineering doctoral student, "Local Treatment of Chronic Bone Infections."
—Macy Gosselaar of Olathe, Kansas, a forestry master's student, "Impact of Differentially Expressed Genes in Monoclonal and Polyclonal Plantings of Populus deltoids for Agricultural Nitrogen Mitigation."
—Elizabeth Esser of Grafton, Wisconsin, a forestry master's student, "Using Plant Secondary Metabolites to Manage Invasive Cogongrass (Imperata cylindrica)."
For more on MSU's Graduate School, visit www.grad.msstate.edu.
MSU is Mississippi's leading university, available online at www.msstate.edu.