Contact: Sarah Nicholas
STARKVILLE, Miss.—A Mississippi State research team is the recipient of a $3.1 million Major Research Instrumentation, or MRI, grant from the National Science Foundation to increase biological and chemical research and teaching in Mississippi.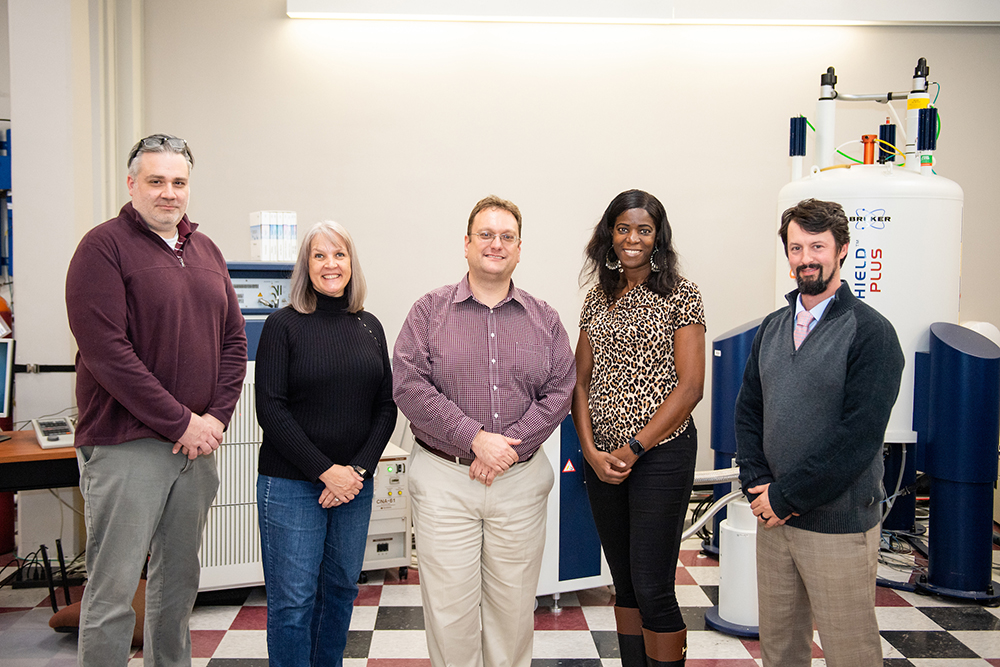 The three-year NSF grant—"MRI: Acquisition of the First 800 MHz NMR with Cryoprobe in the State of Mississippi for Biological and Chemical Research and Teaching"—will fund the installation of a high-field Nuclear Magnetic Resonance, or NMR, spectrometer at MSU. The instrument will allow scientists to study the function of molecules in different biological contexts—including bacterial infections, heart cells and gene regulation—and understand the molecular structure of materials.
The team is led by Professor of Chemistry Nicholas Fitzkee, the principal investigator of the grant, and includes MSU faculty members Joseph Emerson and Colleen Scott, associate professors of chemistry; Christopher Johnson, assistant professor of chemistry; and Carrie Vance, associate professor of biochemistry, molecular biology, and entomology and plant pathology.
"This 800 MHz NMR represents the strongest magnetic field available in Mississippi, and represents a significant enhancement in our capabilities," Fitzkee said. "This instrument will support researchers throughout Mississippi and the Southeast, enabling new research avenues in biomolecular interactions, organometallic chemistry and polymeric materials."
Fitzkee said in NMR, stronger magnetic fields are desirable because high-field instruments offer "significantly increased sensitivity and spectral resolution."
"The higher resolution and sensitivity of this instrument will enable biomolecular and chemical research currently not possible in Mississippi," Fitzkee said. "This can lead to improved detection of molecules that are present at very low concentrations. It can also lead to an improved understanding of complex mixtures where many spectral signals overlap."
Future collaborative research projects will explore how microorganisms attach to surfaces, understand how ion channels are regulated in the heart, characterize the mechanism of metal-ion-based gene regulation and monitor how small molecules respond to changes in metabolism.
MSU's Vance said, "The enhanced sensitivity of the new NMR and its specialized probes will allow us to identify concentration changes in key metabolites in biological samples. These metabolites are important biomarkers, and the new NMR will help us understand how organisms respond to disease agents or stressors."
Chemical researchers will use the instrument to develop new methods for synthesizing polymeric and organometallic materials. Data collected on the new 800 MHz NMR will be shared at scientific meetings and in peer-reviewed publications, and undergraduate researchers in chemistry will receive hands-on training on the instrument.
Students will be able to access the new instrument firsthand through university course offerings, including Theory of Solution NMR Spectroscopy and Environmental Chemistry, which will feature instrument installation and helium use.
A total of 19 investigators, 64 graduate and 72 undergraduate students, and seven postdoctoral trainees will be directly impacted by this project, in addition to other users who benefit through MSU classes and workshops. The instrument also will be available to users throughout the Southeast as a key analytical resource.
Part of the College of Arts and Sciences, the chemistry department was founded in 1878 and hosts the oldest American Chemical Society accredited program in the state.
Complete details about the College of Arts and Sciences or the chemistry department are available at www.cas.msstate.edu or www.chemistry.msstate.edu.
MSU is Mississippi's leading university, available online at www.msstate.edu.