Contact: Carl Smith
STARKVILLE, Miss.—Emma Wade, a highly decorated senior computer science major and biological sciences minor from Decatur, Alabama, is Mississippi State's first Churchill Scholar.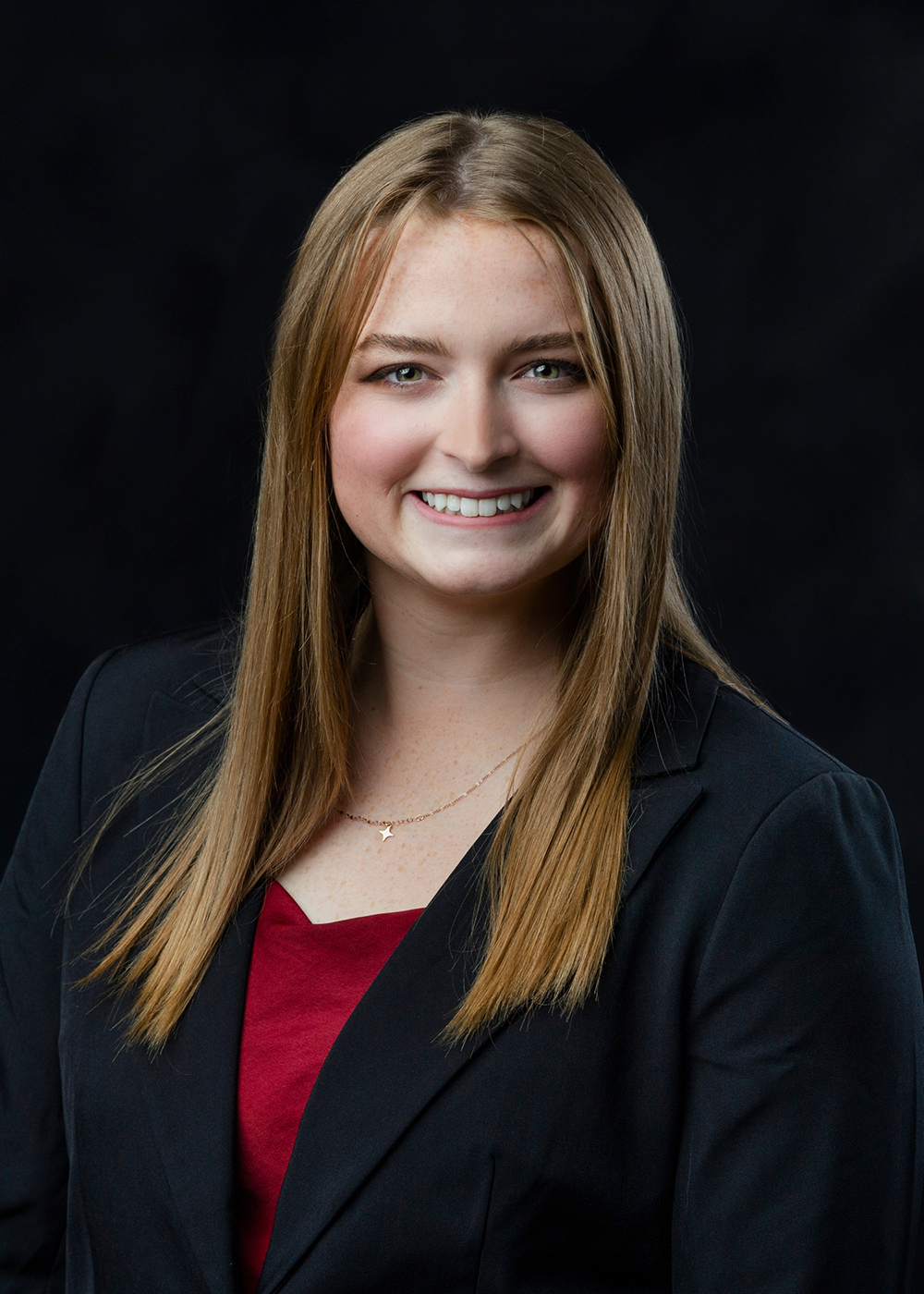 Wade is one of just 16 students from across the nation receiving the Winston Churchill Foundation of the United States' 2023-24 award, which provides one year of master's study at Churchill College at Cambridge University in England, and covers full tuition, a competitive stipend and travel costs. Recipients also can apply for a $4,000 special research grant.
A 4.0 student in the MSU Judy and Bobby Shackouls Honors College and Bagley College of Engineering, Wade plans to pursue a doctorate in computational biology, conduct research in the field and transition into teaching. She is a Goldwater Scholar and Astronaut Scholar, and previously was selected for the highly competitive National Science Foundation Research Experience for Undergraduates program at the Jackson Laboratory's JAX Cancer Center in Farmington, Connecticut.
"Receiving a Churchill Scholarship will allow me to collaborate with leading researchers in my field, immerse myself in a different culture and build a global network of connections while pursuing my master's degree in biological sciences at the Wellcome Sanger Institute, a world-renowned genomics research center. My time as a Churchill Scholar will provide me with unparalleled training and experiences prior to starting my doctorate the following year," Wade said. "Cambridge, the Wellcome Sanger Institute and the Churchill Scholarship have storied histories and alumni, and I am extremely grateful to be a small part of their legacy."
David Hoffman, director of the Office of Prestigious External Scholarships housed in the Shackouls Honors College, said Wade's recognition is an amazing accomplishment for her and the university. This was the first year MSU submitted nominations for the award, Hoffman said, after becoming a partner institution in 2019.
"I am not at all surprised that Emma is a winner. Not only is she a great student, but she also has developed a world-class research profile as an undergraduate here at MSU as well as at other institutions like the Jackson Laboratory and UCLA," said Hoffman, who also is an associate professor within the College of Arts and Sciences' Department of Anthropology and Middle Eastern Cultures. "Here at MSU, mentorship from and collaboration with faculty like Jean-Francois Gout and Amy Dapper have been integral to her continued successes.
"Emma's win is just another testament to the amazing research opportunities available to MSU students that open doors to game-changing inquiry at places like the University of Cambridge, which is currently ranked No. 8 in Best Global Universities," he added.
The Churchill Scholarship was established at the request of former British Prime Minister Sir Winston Churchill as part of the founding of Churchill College. It fulfills his vision of deepening the American-British partnership to advance science and technology on both sides of the Atlantic Ocean. For more information about the scholarship, visit www.churchillscholarship.org.
Learn more about the MSU Bagley College of Engineering and the Shackouls Honors College by visiting www.bagley.msstate.edu and www.honors.msstate.edu, respectively.
MSU is Mississippi's leading university, available online at www.msstate.edu.