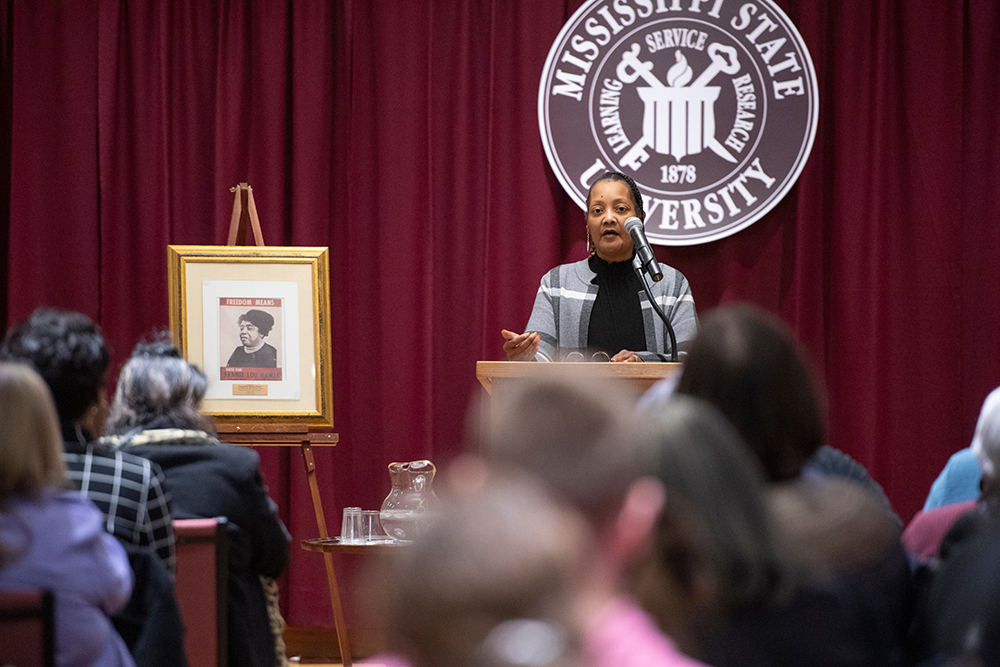 Contact: Carl Smith
STARKVILLE, Miss.—Jacqueline Hamer Flakes, the adopted daughter of famed civil rights pioneer Fannie Lou Hamer, had a unique vantage point of American history: Many nights, she sat unnoticed under the kitchen table as Hamer and others discussed the mental and physical abuse Black people faced in the Mississippi Delta during the 1960s and '70s.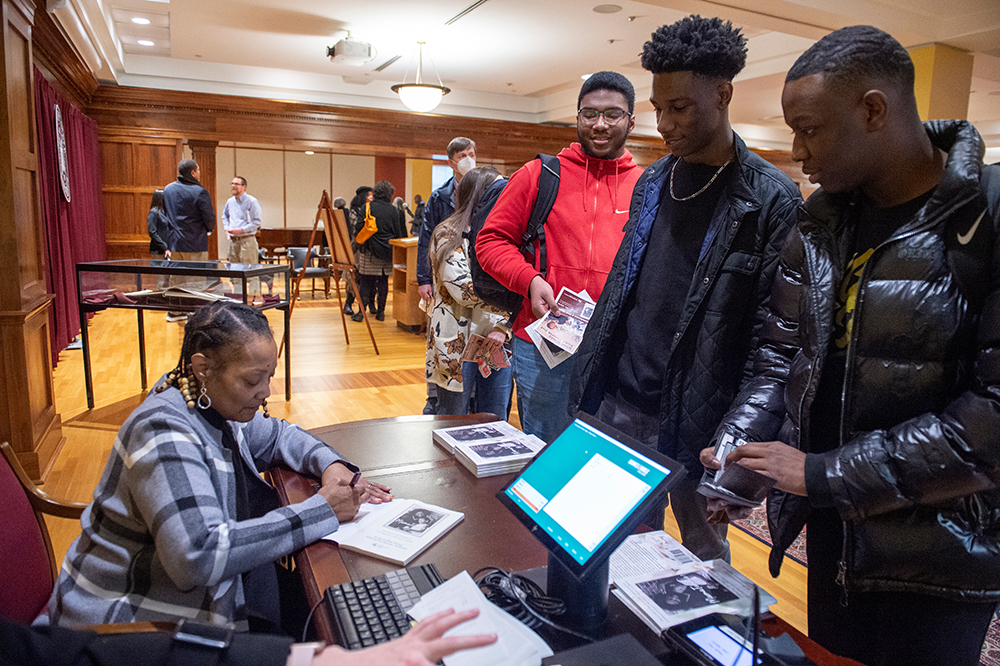 Hamer purposefully shielded Flakes, also known as "Cookie," and her other adopted children from hearing the stories—a beating Hamer received in Winona, shots fired into a house where she was thought to be, and voter intimidation from government officials and police in Indianola, among many others—to guard them from the evils of the world.
"When she started speaking, everyone would get quiet. Her voice commanded attention," Flakes said. "Mama would stand up and put that hand on her hip. When she did, I promise you it wasn't going to be nice. That was Mama Fannie.
"It was hard to hear her say all those things," Flakes added. "They didn't want us to ever go through what they did. They didn't want us to hear it, feel it or see it."
Flakes shared insight into Hamer's life Wednesday [Feb. 1] at Mitchell Memorial Library's John Grisham Room, where she also read from and signed copies of her book, "Mama Fannie: Growing Up the Daughter of Civil Rights Icon Fannie Lou Hamer." Her stories not only shined a light on Hamer's legacy of activism, but they also painted a portrait of her as a mother filled with passion and compassion for others, especially her family.
"I loved her. Hearing her say, 'Cookie, come here and lay by me because I'm cold'—it wasn't the coldness; she just wanted to love on me and bond with me," Flakes said. "If you want to know one thing about Mama Fannie: She loved God. Anything she would speak about would have scripture in it. She loved to cook, and she always had people to help."
Flakes address comes approximately 54 years after Hamer spoke to MSU students at a campus event sponsored by the Afro-American Plus Club.
"Her message to someone getting an education was you have to make sure you pay it forward," Flakes said. "Everybody might not have what it takes to give back, but in some kind of way, pay it forward."
Wednesday's presentation was the first event celebrating Black History Month at MSU. For more events, visit https://www.msstate.edu/newsroom/article/2023/01/msu-honors-black-history-month-variety-events-february.
MSU is Mississippi's leading university, available online at www.msstate.edu.