Contact: Aspen Harris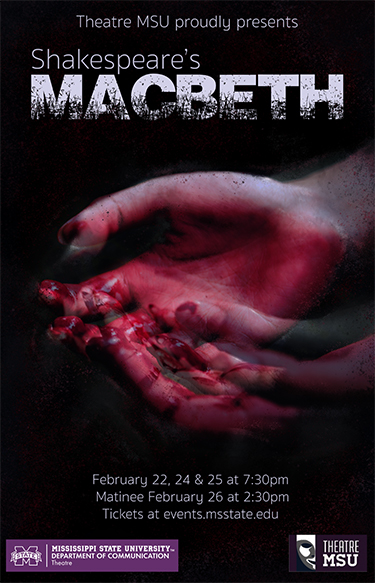 STARKVILLE, Miss.—Mississippi State's Theatre MSU next week presents a Shakespeare classic for its final production of the year.
"Macbeth," set during 11th century Scotland, opens Wednesday [Feb. 22] and continues Friday-Saturday [Feb. 24-25] at 7:30 p.m. and Sunday [Feb. 26] at 2:30 p.m. on McComas Hall's main stage. A special performance for school audiences also is planned.
Admission is $10, and tickets may be purchased at https://msstate.universitytickets.com or at the door.
Shakespeare's five-act tragedy based on Scottish history is "steeped in magic, mischief and murder as Lord and Lady Macbeth are swept away by power and ambition," according to Theatre MSU's production description.
"Everyone's attitude toward this show has been so positive and uplifting. The cast and crew have been working so hard, and it's been amazing seeing everything come together. Overall, I'm tremendously excited for this show and seeing both cast and crew's hard work and dedication pay off," said Kylie Dowd, assistant play director and sophomore art major from Clinton.
The play also features original music composed by MSU senior music major Aliyah Necaise of Gulfport.
Part of the College of Arts and Sciences, the Department of Communication is online at www.comm.msstate.edu.
Follow Theatre MSU on Facebook, Twitter and Instagram @TheatreMSU.
MSU is Mississippi's leading university, available online at www.msstate.edu.