Contact: Harriet Laird
STARKVILLE, Miss.—The power of self-expression will be on full display next week in an art auction featuring individuals supported by Mississippi State's assistive technology center.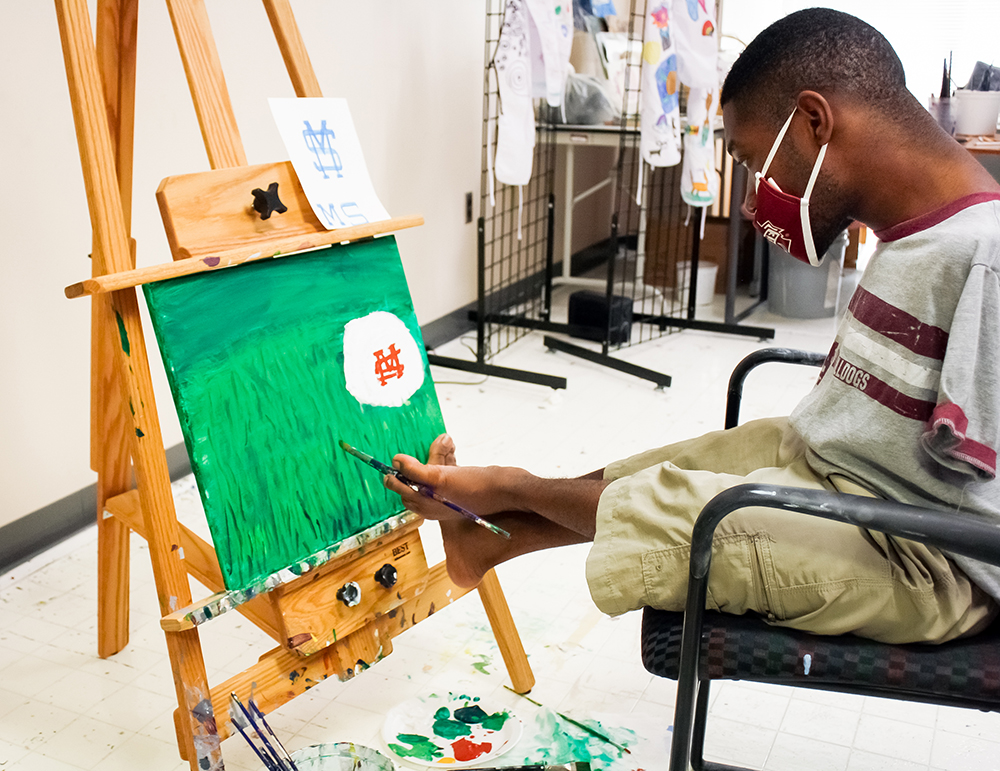 The second annual Express Yourself! Art Auction and Sale takes place Friday [March 24], 3:30-5:30 p.m. at the T.K. Martin Center for Technology and Disability, part of MSU's College of Education.
Well-known artist and MSU student Kendrell Daniels, who paints with his feet and is a recipient of T.K. Martin's services, will be painting at the event and have pieces in the silent auction, along with several others who are part of the center's Express Yourself! Art program. Original pieces and merchandise such as prints and cards can be purchased.
"The artists I work with through this program put so much effort into their pieces and get so excited when they get to show them off. With the success of our first auction last year, they're ready to welcome you again and believe this will be an even bigger event," said Gracie Conn, the center's art coordinator, explaining that proceeds benefit the artists and the program.
The Express Yourself! program provides individuals with disabilities inclusive art opportunities which include personal appointments, an evening program for children and summer camp. Supported by this auction and several generous donors, the initiative supports artists with a variety of different curiosities and disability levels.
Kasee Stratton-Gadke, T.K. Martin director, said, "We're thrilled to showcase our artists' work and their growth over the last year. This event helps fund the program and benefits the artists, so we hope to see a large showing from the community."
The T.K. Martin Center for Technology and Disability provides comprehensive, multi-disciplinary evaluations and services to remove limitations through the application of assistive technology, allowing individuals to participate in educational, vocational and leisure activities to the fullest degree they choose.
Learn more about the center at www.tkmartin.msstate.edu and its Express Yourself! Art program at www.tkmartin.msstate.edu/projects/express.php.
Established in 1903, MSU's College of Education is home to six academic departments, one research unit and numerous service units. For more about the college, visit www.educ.msstate.edu.
MSU is Mississippi's leading university, available online at www.msstate.edu.