Contact: Sarah Nicholas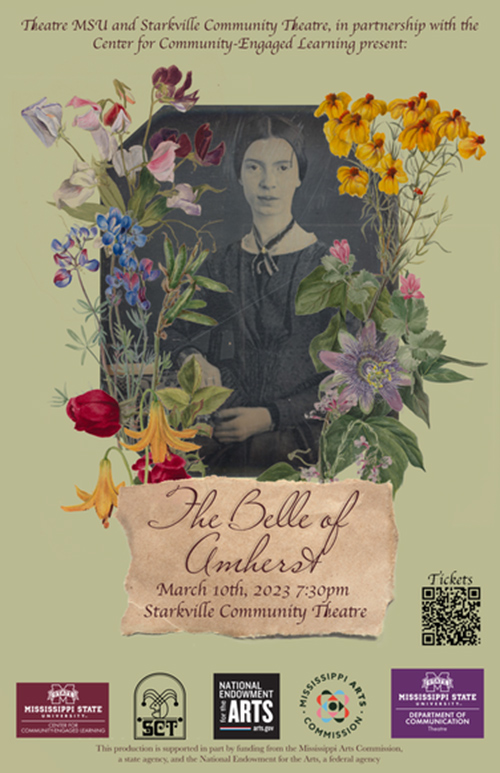 STARKVILLE, Miss.—Just in time for Women's History Month, Mississippi State's Theatre MSU partners next week with Starkville Community Theatre for a special production of "The Belle of Amherst," a William Luce production highlighting the life of acclaimed poet Emily Dickinson. The play is funded through a collaboration with MSU's Center for Community Engaged Learning.
Special guest artist Kennedy Miazza will star in the March 9-10 production that provides a glimpse into the "pain and joy of Dickinson's secluded life."
A Mississippi native, Miazza has performed the one-woman show more than 30 times around the Southeast and has won "best actress" and "best show" from the Mississippi Theatre Association and "best actress" at the Southeast Theatre Conference for her performance as Dickinson, who is considered one of America's greatest literary figures.
Based on the life and poems of the reclusive 19th-century poet, "The Belle of Amherst" is a biographical portrait of the "eccentric spinster" Dickinson in her Amherst, Massachusetts home, as she recollects her past through her work, diaries and letters, and a few encounters with significant people in her life.
The March 9 campus performance, free for MSU faculty, staff and students, will be held at 6 p.m. in Old Main Auditorium. Seating is on a first come, first served basis.
The March 10, 7:30 p.m. show will be performed at Starkville Community Theatre's location on Main Street. Tickets are $15 and can be reserved through SCT or online at https://starkville-community-theatre.ticketleap.com/belle/. 
For more information, contact Assistant Professor Tonya Hays in MSU's Department of Communication at 662-325-3320 or th676@msstate.edu.
Mississippi State's Theatre MSU is the Department of Communication's production division and 2021 School of Excellence Awardee in Higher Education from the Mississippi for Arts Education.
Part of the College of Arts and Sciences, the Department of Communication is available online at www.comm.msstate.edu.
Follow Theatre MSU on Facebook, Twitter, and Instagram @TheatreMSU.
MSU is Mississippi's leading university, available online at www.msstate.edu.