Contact: James Carskadon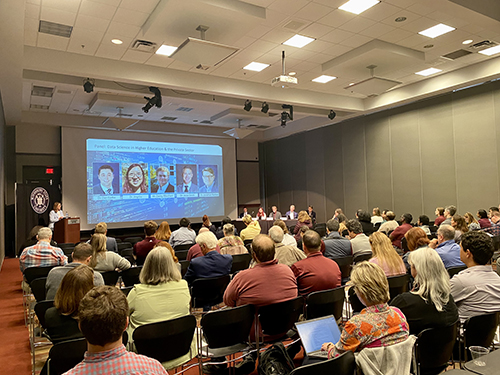 STARKVILLE, Miss.—From ChatGPT to new insights that drive innovation, data science and artificial intelligence have the potential to change almost every aspect of the human experience.
Researchers at Mississippi State University are utilizing an interdisciplinary culture and wide-ranging expertise among faculty to realize the full potential of data-driven research. MSU's Office of Research and Economic Development and new Data Science Program hosted a Tuesday [April 25] symposium highlighting some of the opportunities and challenges related to the quickly expanding field of data science.
"As with any new technology, there are unknowns, and with the unknown comes uncertainty and sometimes fear around what this technology can do and will do," MSU Vice President for Research and Economic Development Julie Jordan said. "But I think academia is a great place to have this type of discourse. Because with knowledge comes power and understanding. It helps us to relax and see how to wade through the negative potential impacts and get to the other side of how this is going to positively impact our society."
The symposium included insights from different academic fields at MSU on how faculty and students are using data science. A common theme of the presentations is the need for interdisciplinary collaboration among faculty with specific field expertise and computer scientists, data experts and others.
"The path toward efficient agriculture and natural resource production is marked by big data and artificial intelligence," said Will Davis, MSU assistant professor of agricultural economics. "Data science lends itself to an interdisciplinary research approach. For example, smart farming systems rely on hardware and software, communication systems and sensing technology. Nobody can do all of this by themselves. These are concepts that we can strengthen and rely on the expertise of others to create something that is more than just the sum of its parts. When we do this data-driven research, we need to stretch across these interdisciplinary boundaries."
The symposium also included a panel discussion with representation from higher education, community colleges, private industry and ChatGPT, the headline-grabbing language learning model. While the emergence of ChatGPT has prompted fears of artificial intelligence impacting jobs, panelists noted that human skills will still be needed to ensure the accuracy, relevance and moral implications of data being used and generated.
"You have to understand what you have in your data," said Jing Liu, executive director of the Michigan Institute for Data Science. "Is it quality data? That kind of judgment will always be needed, as well as critical thinking, problem solving and understanding the position of science and technology in society."
With the demand for data science professionals expected to grow by 36 percent from 2021 to 2031 according to the Bureau of Labor and Statistics, MSU launched an academic data science program last year. The program prepares students to understand the central role that data plays in every aspect of organizations equipped to succeed in a digitally operated world. For more on the program, visit www.datascience.msstate.edu.
Mississippi State University is taking care of what matters. Learn more at www.msstate.edu.