Contact: James Carskadon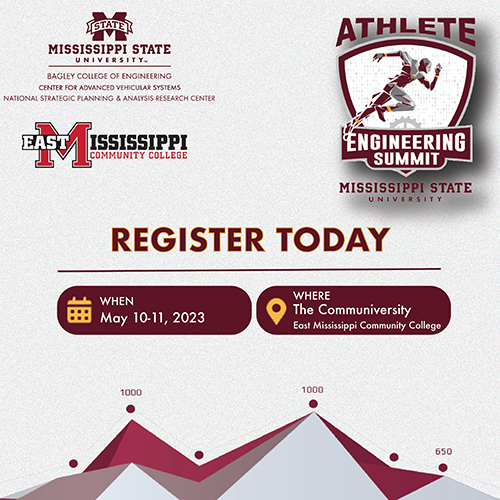 STARKVILLE, Miss.—The second annual Mississippi State University Athlete Engineering Summit will bring together experts from across the country this May to address human performance issues in sports, industry, military and medical applications.
With a theme of "Speaking the Same Language," the summit will be held May 10 and 11 at the Communiversity at East Mississippi Community College, 7003 South Frontage Road in Columbus. Reuben Burch, associate professor in the MSU Department of Industrial and Systems Engineering and head of MSU's multidisciplinary Athlete Engineering research group, said communication between sectors studying human performance can better address common issues. A wide range of experts will share how their teams and new technologies are impacting performance.
 "These experts will include sports team coaches, health and safety managers from industry, human performance trainers from the military, along with engineers, data scientists, and wearable and human performance technology experts," Burch said. "Combining practitioner experience with applied research across all sectors is the foundation from which Athlete Engineering was built."
Registration is open at www.athleteengineeringsummit.com and is $300 for general admission, $200 for MSU and EMCC faculty and staff as well as all active service members, and $100 for MSU, EMCC and University of Mississippi Medical Center students. Pre-summit events include a free May 9 workshop on human readiness and human performance technology implementation and a social event hosted by the Air Force Research Laboratory.
This year's keynote speaker is Jim Reilly, a space systems expert and former astronaut who now serves as an executive advisor to the Booz Allen Hamilton aerospace business based in Virginia. Reilly has more than 25 years of multidisciplinary technical, engineering and management experience in resource assessments, applications-focused earth systems characterization, space systems development and education. Prior to joining Booz Allen Hamilton, he served as director of the U.S. Geological Survey.
The summit will feature discussions focusing on how concepts, cultures, technologies and different courses offered in MSU's Athlete Engineering Certificate program can bring impact to sports, industry, tactical and at-risk athletes. In addition to nationally recognized speakers and panels of experts, attendees can network with professionals, enjoy delicious food, and see human performance technology in action.
To view a complete conference schedule and to register, visit www.athleteengineeringsummit.com.
To learn more about MSU's Athlete Engineering research team, visit https://www.cavs.msstate.edu/research/athlete_engineering.php.
Mississippi State University is taking care of what matters. Learn more at www.msstate.edu.