Contact: Addie Mayfield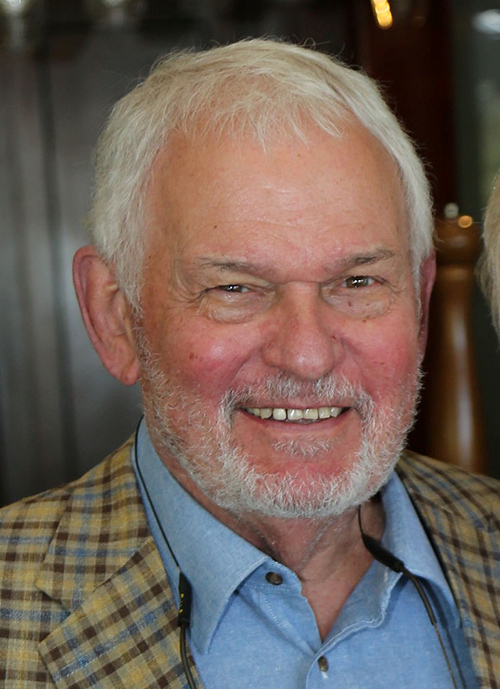 STARKVILLE, Miss.—Mississippi State University is honoring Albert C. Clark with its highest alumni honor. In a campus ceremony on May 19, the Starkville native will be recognized formally as the university's 2023 National Alumnus.
A 1965 business administration graduate of MSU's College of Business, Clark is president and CEO of C.C. Clark Inc., a regional beverage distributor, and vice president of Clark Distributing Co. in Kentucky. He is a leader in the community and within his industry, having served in a number of voluntary roles over the years.
He has served on the board of BancorpSouth Bank Inc. and as former chairman of First Federal Bank for Savings. He is current president of the Gulf State Canners Inc. board. A longtime member of the Greater Starkville Development Partnership, he also has dedicated his time and support to the Oktibbeha County Economic Development Authority board, Starkville Rotary Club and the Starkville Chamber of Commerce.
At MSU, Clark has a strong history of support and service. He is a member and past president of the MSU Foundation board of directors and previous board member for the Bulldog Club.  He was honored as the College of Business's Alumnus of the Year in 2004 and was named among the college's 100 most distinguished graduates during its centennial celebration in 2015.
"We are proud to salute Albert Clark on behalf of Mississippi State University for his professional success and for his loyal lifelong connection with his alma mater. He is an excellent example for the entire Bulldog family, and his outstanding professional and personal achievements serve as an illustration of the success MSU inspires each of our graduates to attain," said Jeff Davis, executive director of the MSU Alumni Association. "Of more than 158,000 living alumni, Albert is a distinguished selection for this honor."
Along with Clark, a host of other outstanding alumni will be recognized by the MSU Alumni Association at the annual awards event. Individual academic college selections for Alumni of the Year for 2023 include (by city of residence):
ALEXANDRIA, Alabama—Gus W. Colvin Jr., College of Arts and Sciences. A 1962 history graduate of MSU, he also earned a Juris Doctor from the University of Mississippi in 1965. He is the retired district court judge for the Calhoun County District Court in Anniston, Alabama.
COLLIERVILLE, Tennessee—Jeff Tarsi, College of Agriculture and Life Sciences. Executive vice president and president of global retail for Nutrien Ag Solutions, he earned a bachelor's degree in agricultural economics in 1984.
GULFPORT—Anthony L. Wilson, James Worth Bagley College of Engineering. He earned an electrical engineering degree from MSU in 1987 and also holds a Master of Business Administration from the University of Southern Mississippi. He currently serves as chairman, president and CEO of Mississippi Power Company.
HOUSTON, Texas—Cynthia Anne Tucker, College of Business. A two-time MSU graduate, she earned a bachelor's degree in economics in 1977 and an MBA in 1978. She retired from ConocoPhillips as director of business development and emerging technologies.
JACKSON—Anne Marie Duvall Decker, College of Architecture, Art and Design. The 1994 architecture graduate is a founding principal partner of Duvall Decker.
MADISON—F. Lee Temple Jr., College of Forest Resources. He earned a bachelor's degree in forestry 1972 and retired from a 44-year career with Georgia Pacific as an operations manager.  
MINNEAPOLIS, Minnesota—Dr. Victoria Hall, College of Veterinary Medicine. A three-time MSU graduate, she earned a bachelor's degree in animal and dairy science in 2011, followed by a Doctor of Veterinary Medicine in 2014 and a master's degree in veterinary medicine in 2015. She is the Patrick T. Redig Endowed Chair in Raptor and Ecosystem Health and executive director of The Raptor Center at the University of Minnesota College of Veterinary Medicine.
RANCHO MIRAGE, California—Cheryl Prewitt Salem, College of Education. Co-founder of Salem Family Ministries, author, musician and former Miss America, she graduated from MSU in 1979 with a bachelor's degree in music education and later received an honorary Doctor of Divinity from Heritage University and Seminary.
More details on the awards ceremony and honorees will be available in the coming weeks. For more on the association, visit alumni.msstate.edu.
MSU is Mississippi's leading university, available online at www.msstate.edu.